'Je ne suis PAS Charlie': Russians respond to Hebdo plane crash caricatures with own drawings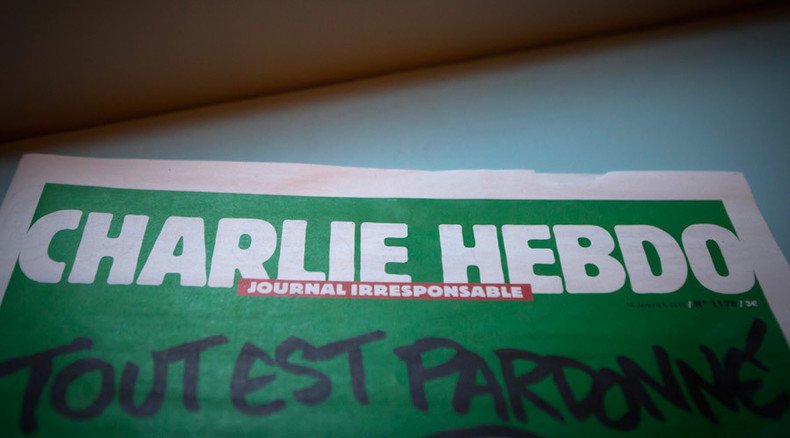 #IamnotCharlie, Russians say, posting dozens of caricatures and drawings online, in outrage over French magazine Charlie Hebdo's caricatures ridiculing the fatal plane crash in the Sinai Desert.
Two hundred and twenty-four lives were lost in the tragedy, but the satirical mag thought it a fit occasion for a joke.

[Laughter prolongs life. - Not in your case, Gerard! Not in your case!]
The Russian hashtag translated as #IamnotCharlie has been trending on all social networks for several days in Russia, with many – from the public to political parties – expressing their rage and bewilderment over how a fatal tragedy, the worst national air disaster, could turn into a laughing matter.

Charlie Hedbo didn't seem to satisfy its readers with just a couple of caricatures: a couple of days ago, they published yet another drawing that pictures the A321 plane and a rocket slamming into the aircraft's rear part, which looks like an anus.

The drawing equates the crash with sexual intercourse in the caption that reads, "Finally, the sex tape!" with the rocket hinting at a possible terror attack being behind the crash.
[The first Charlie Hebdo employees to move to the new office... they're waiting for their colleagues!]
The head of the Foreign Affairs Committee of the Russian state Duma was one of the first people to react to the new drawing.
"Charlie [Hebdo] responded to our outrage over their caricatures with a new obscene cover about the crash of our plane. The chief editor should be treated, he is badly ill," Puskhov tweeted.
[Hello, is that ISIS? Our sales have dropped again. I've prepared the caricaturists for you, and the money has been transferred. Looking forward!]
Russian Children's Ombudsman Pavel Astakhov compared the drawing with an "act of public necrophilia."
Officials' outrage was echoed by many, with one caricature in response depicting an author of Charlie Hebdo being involved in sexual intercourse with a jihadist. The caption reads, "The source of inspiration for Charlie Hebdo."
Just over a week ago, following the publication of the first two first caricatures making fun of the plane crash, angry people asked why the staff at Charlie Hebdo hadn't printed a cartoon of their team who were shot dead by jihadists in Paris in January.
Twitter users added sarcastically, "That would have been really funny for them."
Others called not to react to the drawings, as the authors are trying to "provoke a reaction."
[1. It's funny, isn't it? 2. And later, I will preach about compassion... The tombstones read, 'To the deceased caricaturists of Charlie Hebdo shootings' and 'To the victims of A321' 3. The freedom of conscience usually means it's absent. 4. Mourning, grief, pain, soul wound]
[Everything has its limits]
You can share this story on social media: