German army to stop aiding refugees as troops now required for 'core tasks' - defense minister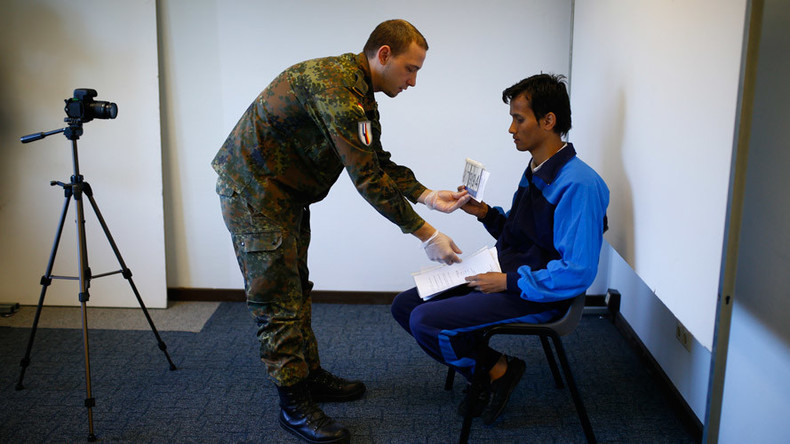 Germany's defense minister has said the country's military cannot incorporate into its daily routine the practice of helping local authorities cope with hosting refugees. The Bundeswehr is set to stop aiding the new arrivals by this summer as it begins running out of manpower.
"A body-to-body assistance in acute necessity should not become a routine task for the Bundeswehr," Defense Minister Ursula Von der Leyen said, referring to the thousands of soldiers busy helping civic authorities to provide registration, housing, care and distribution of incoming refugees.
The armed forces will reduce its refugee care tasks as more and more troops are required to conduct immediate military duties, added Von der Leyen, who was speaking to the magazine of the German Armed Forces Association (DbwV), an independent organization that represents nearly 200,000 active servicemen and veterans.
The minister added that she has "a bottom line drawn" that by summer 2016, if the situation with refugees begins to ease due to proper measures taken, the army will commit German regions and communities to set up their own structures dealing with those arriving in Germany. The Bundeswehr is not dropping all its refugees-related tasks now, because civic authorities "have to fill the gaps step by step," Von der Leyen said.
"The troops are finally required to do their core tasks, as seldom before," she added.
When the current refugee crisis began, the Bundeswehr allocated up to 7,000 troops for aid operations, including for building camps and housing areas for migrants, providing healthcare and medication and distributing food and amenities. In peak times, when the refugees began arriving in overwhelming numbers, as many as 9,000 troops were aiding civil authorities.
But when the refugee crisis in Germany was settled to an extent, many started calling the government to free the army from non-military tasks such as helping migrants, which some in the society regard as promoting Chancellor Angela Merkel's "welcome culture." Additionally, Berlin has entered the US-led war on Islamic State (IS, formerly ISIS/ISIL) terror group, which exposed the military's shortages in hardware and manpower.
READ MORE: Germany wants to send Special Forces to Syria – reports
In mid-December, the chair of the German parliament's defense committee, Hans-Peter Bartels, told Die Welt newspaper that in-country missions "are not the core task of our armed forces." Bartels warned that the military is stretched to its limits, citing the need for 5,000 troops to be deployed from January 2016 overseas, along with another 5,000 troops to be available within NATO, plus 8,000 to provide aid and care for refugees.
You can share this story on social media: