Germany wants to send Special Forces to Syria – reports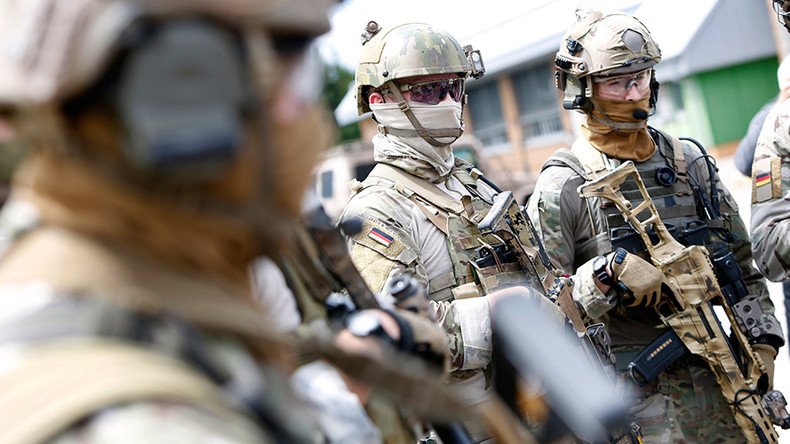 The 1,200-strong Bundeswehr task force's deployment in Syria approved by the German parliament Friday might be reinforced by elite special forces, the KSK, according to local media.
To strengthen the task force, the Bundeswehr may send an additional unit of its elite Kommando Spezialkräfte (KSK) to Syria "in case of emergency," Bild reports, citing its source in Bundestag's defense committee.
This was "made very clear" by German Defense Minister Ursula von der Leyen and Bundeswehr chief of staff Gen Volker Wieker during preliminary hearings at Bundestag's defense committee on Wednesday, Bild claims, adding that it's unclear how many special troops could be sent to Syria.
The newspaper reports that possible missions for the KSK unit on the ground could be, among others, rescue operations to "liberate downed Tornado pilots." It is yet unknown whether the Bundestag's approval on Friday included such kind of missions.
Some in Germany claim the Syrian deployment would necessitate boosting the country's army, considering the Bundeswehr currently runs two additional operations on remote theatres.
Head of the Bonn-based Association of Bundeswehr Personnel Lt Col André Wüstner told Neue German media on Friday, German military would "need at least 5,000 or 10,000 soldiers more," quoted as saying by Tagesschau. To Wüstner, the number of personnel available may become a pressing issue as from January 2016 "over 20,000 soldiers" will find themselves in "deployments across Afghanistan, which is prolonged, and also in Northern Iraq and Mali."
Earlier on Friday, Germany's Bundestag has approved contribution to the military efforts against Islamic State in Syria. 445 out of 598 MPs voted for military action with 146 voting against. Seven members of Bundestag abstained.
Germany will deploy 6 Tornado reconnaissance jets, a frigate to back up the French aircraft carrier Charles de Gaulle already present in Syrian waters, a refueling aircraft, and up to 1,200 troops to Syria, according to Reuters. Berlin says the mission will be of "support" nature only, as the German air detachment will not take any part in the airstrikes against Islamic State's targets.
On Wednesday, Syrian President Bashar Assad told Czech television that the US-led aerial campaign is not hurting the Islamic State positions, while the Russian air operation is.
You can share this story on social media: