'Stop Erdogan's state terror against Kurds!' Hundreds gather for pro-Kurdish rally in Berlin (VIDEO)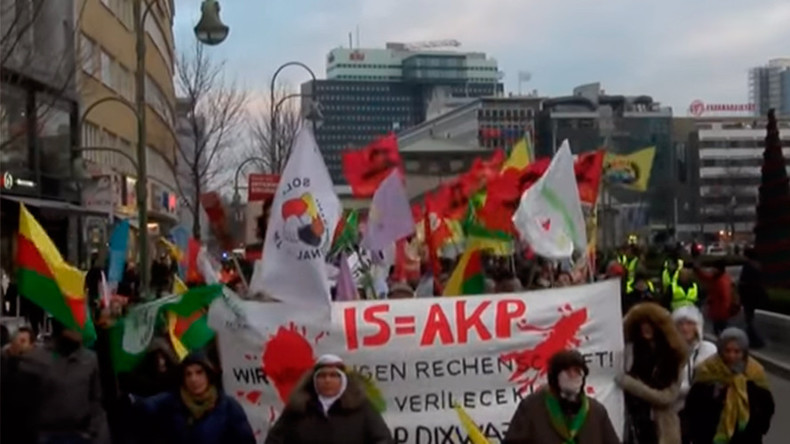 At least 400 people have taken to the streets of the German capital to voice their protests against the policy of Turkish President Recep Tayyip Erdogan toward Kurds.
The demonstrators were holding banners reading, "Stop Erdogan's state terror against Kurds!" and "Stop the war against the Kurdish people!" as they marched through central Berlin.
Some of the banners compared Erdogan's party AKP (Justice and Development Party) to the Islamic State terrorist group.
READ MORE: Turkish military kills nearly 300 Kurdish rebels in raids – General Staff
The rally took place the day when the Turkish General Staff announced that nearly 300 Kurdish rebels, members of the Kurdistan Workers' Party (PKK), were killed in raids conducted by the Turkish military in three districts in southeast Turkey.
READ MORE: 'Erasing from map'? Scenes of destruction as Turkish military besiege Kurdish town of Silvan (VIDEO)

Ankara has been conducting military operations in southeast Turkey since the summer. Tensions have been mounting for months as security forces have been battling Kurdistan Workers' Party (PKK) militants after a ceasefire collapsed in July.
Since then Turkey's southeast has seen armored vehicles patrolling the streets, locals experiencing severe economic hardship and civilians killed. Dozens of Kurdish militants have been killed in the operations.
READ MORE: Turkey's forces kill 69 Kurdish fighters in 4 days of military ops – sources


The PKK, which was founded in 1978, has been fighting the Turkish state since 1984 for Kurdish self-determination. Kurds make up between 10 percent and 25 percent of Turkey's population. The organization is considered as a terrorist group by Turkey, the US and NATO.
You can share this story on social media: