Polish protesters slap government with red card for enacting controversial laws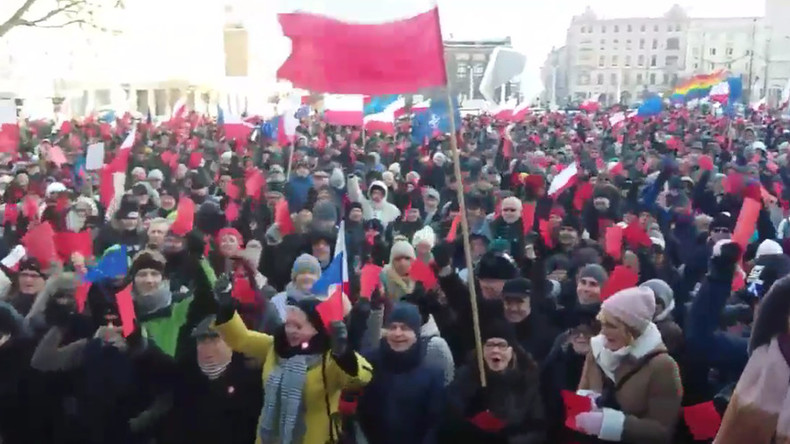 Up to 2,000 people have taken to streets of the city of Poznan in west-central Poland to express discontent with their government's policies in the wake of the recent enactment of controversial laws they say infringe upon democratic principles.
Despite freezing temperatures, about 2,000 people gathered in Poznan's Freedom Square to take part in a pro-democratic rally organized by the liberal Modern political party under the slogan "Democracy Guards."
Each protester was given a red card that was created as a symbol of opposition to the government's actions. Organizers encouraged those present to participate in a joint photo that will be sent to the government.
The indignation is a reaction to a whole series of controversial laws recently approved by Polish President Andrzej Duda, including one requiring a two-thirds majority in the 15-judge Constitutional Court for any ruling to be valid.
READ MORE: Poland enacts 'crippling' constitutional court law despite EU indignation
Another issue is a recently passed media law that gives government more control over public TV and radio "to shield national interests." The legislation has been slammed by the EU, journalists, and the OSCE media representative.
READ MORE: EU slams Poland for media 'crackdown' after new law gives state more control
"We are determined to fight till the end," Joanna Schmidt, a member of the Modern party, said, according to local media. "Nobody can take away our freedom," she added, referring to another piece of legislation that, if passed, will increase the government's ability to conduct surveillance on Poles and allocate more power to the special services.
In a video posted on social media, the crowd is seen jumping and screaming "Whoever doesn't jump is for PiS," which is a Polish abbreviation for Andrzej Duda's newly-elected Law and Justice national-conservative party.
The demonstration was attended not only by local residents, but also people from the entire Wielkopolska region, Warsaw, and other Polish towns.
READ MORE: Anti-govt rallies draw thousands across Poland (PHOTOS, VIDEO)
"There are supporters of other opposition parties as well. We will stick together despite our political preferences," a member of the Modern party, Lukasz Gozdzior, said, adding that pro-democracy demonstrations will be held every week.
You can share this story on social media: