'Most inappropriate selfie ever': Couple put to shame over photo in front of burning Dubai hotel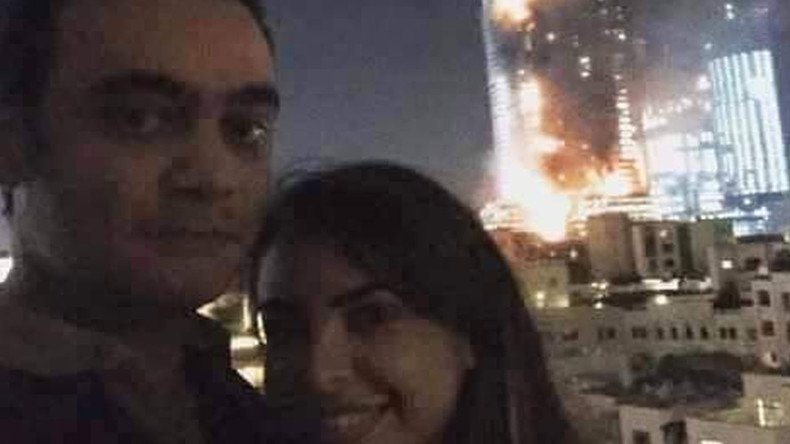 A couple that took a photo of themselves with the burning Address Downtown Dubai hotel in the background has been put to shame by Twitter users.
READ MORE: Inferno at 63-story luxury hotel in Dubai near New Year's Eve fireworks display (PHOTOS, VIDEOS)
The tragic incident, which happened on New Year's Eve ahead of a grand fireworks display, was snapped and posted by many social media users with different hashtags, including #Dubaifire.
However, the photo of the couple posing with the billowing building as a backdrop sparked a Twitter storm on Friday. Social media users expressed reactions from "the most inappropriate selfie ever" to the "best selfie of the year." The majority of tweets reflected extreme disapproval, however.
READ MORE: New fire in Dubai tower engulfed in flames on New Year's Eve (PHOTOS,VIDEOS)
Sixteen people were injured in the fire that broke out on Thursday evening, and one person was killed in a stampede during the evacuation. Authorities say that the fire has been contained. However, photos of the still burning building continue to appear on Twitter, with social media users saying the fire has reignited.
You can share this story on social media: