New fire in Dubai tower engulfed in flames on New Year's Eve (PHOTOS,VIDEOS)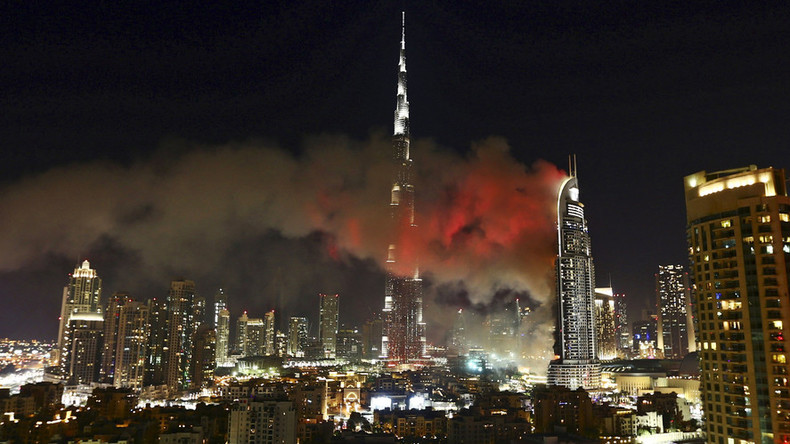 The Address Downtown Dubai hotel, which was engulfed in flames on New Year's Eve, has lit up again, according to photos posted on social media.
On Friday, social media users began posting photos of a new fire at the already ravaged 5-star facility.
During the day, the building was photographed enveloped in smoke as it was "cooling-off" and fire brigades were inspecting the damage.
However, closer to evening, the fire sparked again and gradually expanded. There has been no confirmation from authorities that the fire has reignited.
"The section that is burning now is just a huge big space, it isn't separate floors anymore. It's coming apart. I think they were expecting this. That's why so many trucks arrived this afternoon," said a posted photo of a message from Twitter user @taineMcLear's relative, who was at the scene. "It's horrible. And the fire alarms are still going."
Meanwhile, earlier in the day, the Dubai Civil Defense said that, although cooling procedures are still underway, the blaze has been brought under control and been prevented from spreading to other buildings. It also said that an investigation is being carried out into the cause of the fire.
The fire broke out at around 9:00 pm local time on Thursday. Preliminary information indicates that it originated on the 20th floor of the hotel, according to the Dubai Civil Defense. Sixteen people were injured and one killed in a stampede during evacuation.
Social media users have posted various photos and videos of the fire, with some even making rather joyful-looking selfies with the burning tower in the background.
Others praised the work of firefighters and posted photos of them on Twitter.
You can share this story on social media: