Santa 'converts' to Islam after 'altercation' with Ottoman soldiers (VIDEO)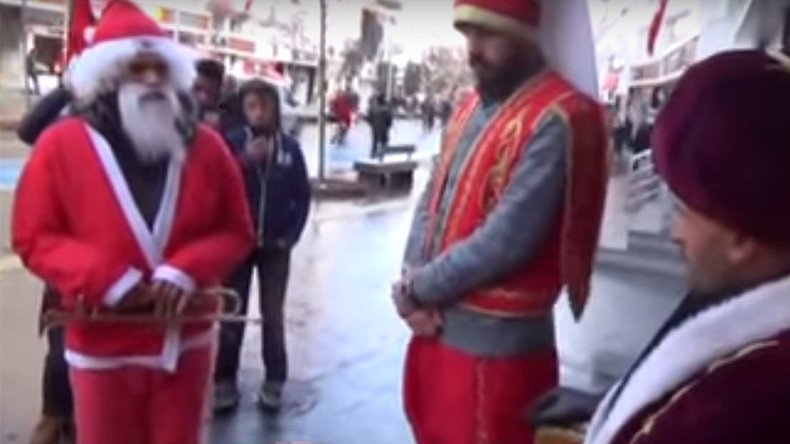 An ultra-nationalist Turkish party is so fed up with Christmas that they came up with a video of Santa Claus converting to Islam. The fictional play saw Ottoman janissaries chasing jolly old Saint Nick, before he decides to become a Muslim after a trial.
The show was the work of the Grand Unity Party (BBP), which is against Christmas and New Year's celebrations due to their associations with Christianity, Today's Zaman reports.

The video starts with Santa Claus being chased down the streets by Ottoman janissaries in the city of Bolu in western Turkey. After being caught, Father Christmas is eventually led to face a qadi (Islamic Judge), who is actually Mahmut Alan, a former BBP provincial head.
The qadi asks Santa why he was running, to which Santa replies that he was celebrating the birth of Jesus and had been consuming alcohol. The Islamic judge then summons two neutral onlookers, who say they did not have any problems with Santa celebrating and that he was not forcing anyone to do anything they did not want to.
The qadi promptly sets Santa free, but not before a twist in the tale. Santa, who had believed Turks to be barbaric, is so impressed by the qadi's assurances that there is "no room for barbarism" in Islam that he decides to convert and become a Muslim by reciting the Islamic Shahada.
"Citizens are celebrating because they consider New Year's as entertainment and not as Christmas," Alan said, as quoted by The Hurriyet Daily News. "They [Christians] do not celebrate our holidays, why should we celebrate theirs? It's interesting and we staged a play to warn the public."
The BBP pulled a similar stunt last year, which again saw Ottoman janissaries chasing Santa before bringing him before a Sultan. However, on that occasion, Santa was 'banished' from the city.
You can share this story on social media: