Erdogan cites Hitler's Germany as example of effective presidential system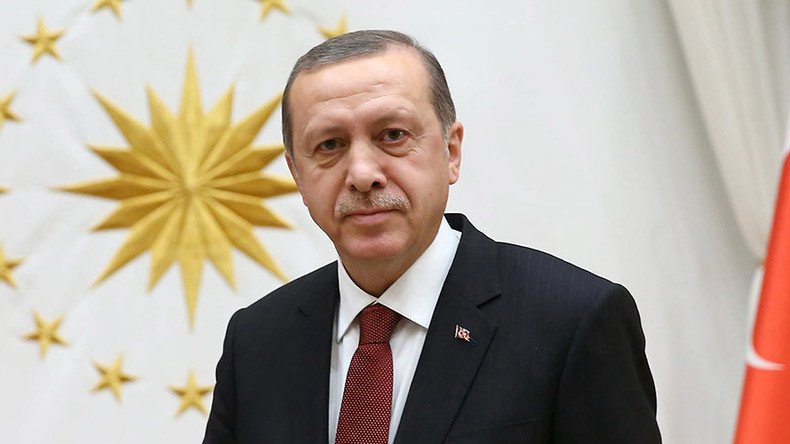 Turkish President Recep Tayyip Erdogan has reiterated his desire to ensure Turkey adopts a presidential system of government and has even cited Adolf Hitler's Germany as an example of how this can be achieved.
Speaking at a news conference, Erdogan was asked by a journalist whether Turkey would be able to keep a unitary structure of government if a presidential system was implemented.
"There are already examples in the world. You can see it when you look at Hitler's Germany," he said on Thursday, according to a recording broadcast by the Dogan news agency. "There are later examples in various other countries."
On Friday, the president's office said that the words of Erdogan had been misunderstood, explaining that he had referred to Hitler's era in an attempt to show that bad rule can emerge in all types of political systems.
"Whether it is parliamentary system or a presidential system, bad rules that end in disasters can emerge if the system is misused, as it was by Hitler's Germany," the statement reads according to AP.
"It is unacceptable to reflect the president's statement as a positive reference to Hitler's Germany," the office added. The statement also stressed that Erdogan has declared the Holocaust, anti-semitism, and Islamophobia to be crimes against humanity.
Both Erdogan and Turkish Prime Minister Ahmet Davutoglu believe that Ankara needs to move away from its current parliamentary system to streamline the government.
"What is right for Turkey is to adopt the presidential system in line with the [democratic] spirit. This system will not evolve into dictatorship but if we do not have this spirit, even the parliamentary system can turn into this [dictatorship]," Davutoglu said in an interview with NTV, as reported by the Hurriyet Daily News.
The ruling Justice and Development Party (AKP), who won an absolute majority in the November's elections, are looking to adopt a new Turkish constitution to facilitate the move toward a presidential system. Opposition parties have condemned the move, saying it would give Erdogan too much power and would make it easier for him to create one-man rule.
"[Erdogan] wants a presidential system in Turkey. He did not change his mind after the last election. I think he will force that, somehow. And I think this is the last exit before the full dictatorship for Turkey," Ceyda Karan, an opposition journalist at Cumhuriyet newspaper, told RT.
Meanwhile, Ronald Suny, from the University of Michigan, told RT that the move towards a presidential system was "dangerous," especially given that around "40-45 percent" of the population oppose this.
"We're dealing with the situation here that is close to a kind of civil war, and that is really dangerous – it is dangerous for Turkey domestically, and it is also dangerous for the international scene where Turkey, the US, Russia, Syria – all these countries, the Kurds are all involved in the struggle against ISIS in Syria and in Iraq," Suny said in November.
Erdogan has already jailed a number of his political opponents and journalists who are critical of him. On New Year's Eve, political opponent Feyzi Isbasaran was sentenced to nearly three years in jail for posting tweets deemed insulting to the Turkish president. Isbasaran is a former member of Erdogan's own AKP party.
Meanwhile, opposition MP Eren Erdem, from the Republican People's Party (CHP), was accused of "treason" for telling RT that Islamic State had obtained sarin gas supplies via Turkey. He also alleged that Ankara had done nothing to stop the flow, despite having all the evidence at their disposal.
"There is a deputy in this country, buried so deep in a pit of betrayal, and to a party that claims to be as old as the republic, saying during an interview to a foreign television channel that Turkey is selling chemical weapons to terrorists," a furious Erdogan said on December 18.
He has also unleashed a harsh crackdown on Kurds in the southeast of the country, who have had week-long curfews imposed on them.
On Tuesday, Ankara used tear gas against thousands of Kurds protesting against the implementation of the curfews, which has led to schools closing and has severely disrupted people's way of life. With more than 10,000 security troops alongside with tanks and armored vehicles deployed in the region, Turkish forces have turned residential areas into piles of rubble in a six-month offensive against Kurdish militants.
"[The] Turkish state force again oppressed those peaceful demonstrators… detained tens of people, including an MP from the pro-Kurdish HDP party," local resident Harun Ercan told RT.
You can share this story on social media: