Keep calm & carry on flying: Russian pilots see in New Year amid sorties from Syria airbase (VIDEO)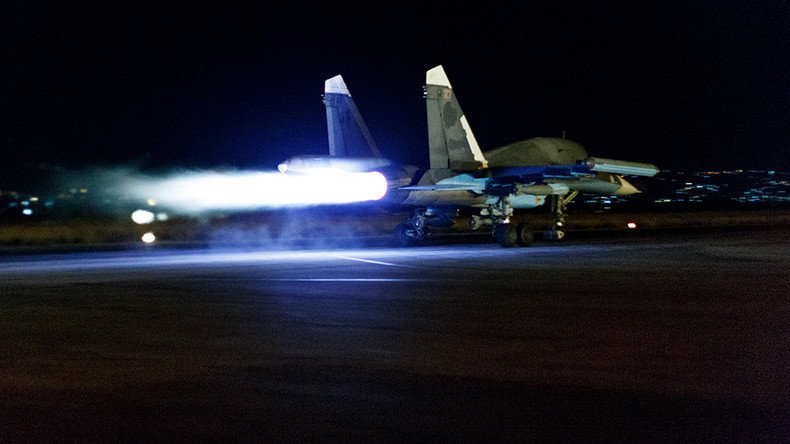 Personnel at the Russian airbase in Syria celebrated the New Year while carrying on their nighttime flying missions. January 2016 sees the Russian military operation against the terrorists of Islamic State enter its fourth month.
At midnight Moscow time, the servicemen at the Khmeimim airbase in Latakia saw in the New Year, one hour ahead of local time in Syria.
Some of the air crews were absent from the celebration as sorties continued all night long.
However, many marines, plane mechanics and other servicemen not involved in missions gathered in front of a giant screen to listen to the traditional address to the nation of the Russian president next to a 15-meter-tall New Year's tree brought to the base from Russia.
A serviceman dressed up as Father Frost wished all those present to "finish off the terrorism in Syria soon and get back to Russia's birches and firs from palm trees."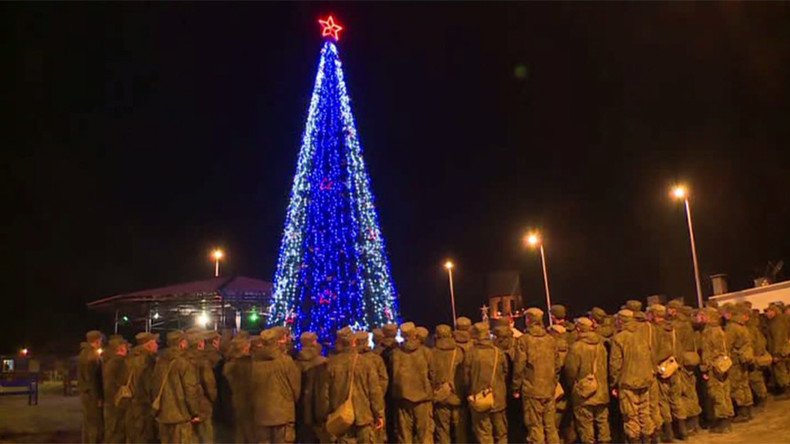 Every serviceman received New Year's gifts from the Defense Ministry, including a memorable "Destroy terrorism" T-shirt depicting a Sukhoi Su-30 fighter jet.
The Russian Air Force started its counterterrorist operation in Syria on September 30, 2015, at the request of the Syrian authorities.
Over the last three months, bombers and jet fighters taking off from the Khmeimim airbase in Latakia have conducted well over 5,200 missions, eliminating thousands of terrorist targets.
You can share this story on social media: