Kim Jong-un threatens 'holy war of justice' against invaders of North Korea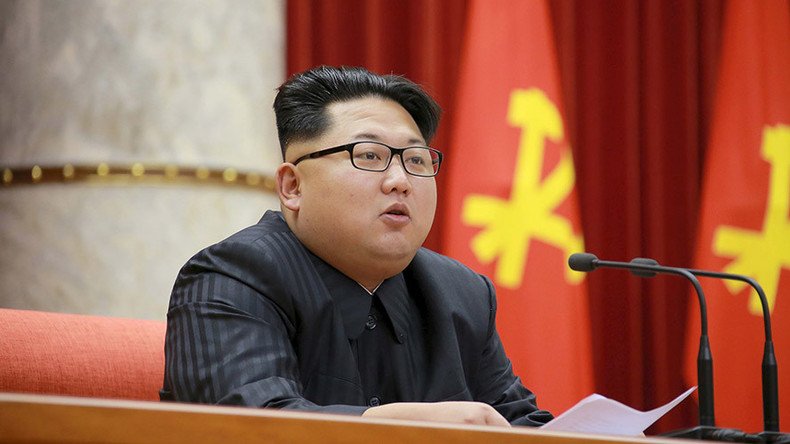 North Korean leader Kim Jong-un says he is ready to go to war if provoked by foreign nations. However, he stopped short of saying that Pyongyang could possibly retaliate with nuclear weapons or long-range missiles.
"We will continue to work patiently to achieve peace on the Korean Peninsula and regional stability. But if invasive outsiders and provocateurs touch us even slightly, we will not be forgiving in the least and sternly answer with a merciless, holy war of justice," AP reported Kim as saying.
With North Korea's economy believed to be in woefully poor condition, experts on the secretive nation said that Kim would want to avoid provocative statements to try and improve relations with South Korea and its closest ally China.
Kim mentioned that he was ready to hold talks with anyone who was interest in "reconciliation and peace" on the Korean Peninsula. He also said that he would take steps to try and improve the economic situation of the country.
In August, North and South Korea agreed to end their military standoff after an exchange of artillery fire that had raised tensions along the border to a critical level. The two countries will also be opening up new channels of communication to rekindle ties that have been severed since 2010.
"The joint press release published at the contact provided a crucial landmark occasion of defusing the acute military tension and putting the catastrophic inter-Korean relations on the track of reconciliation and trust," the North's KCNA news agency quoted Kim as saying at a meeting with military aides.
Kim, however, said the accord was made possible due to the strength of the North's armed forces. He attributed it to "the tremendous military muscle, with the nuclear deterrent for self-defense, built by the great party as a pivot, and matchless ranks single-mindedly united around the party."
The statements are certainly less provocative than some made over the last few months. In December, Pyongyang claimed it had developed a hydrogen bomb, which it would be able to use, along with nuclear warheads, to defend its sovereignty.
"We managed to become a great nuclear power capable of defending the independence and national dignity of our homeland by mighty nuclear and hydrogen strikes," Kim Jong-un was quoted as saying by the North Korean central news agency. He also said North Korea "has to continue with actively developing its military industry."
However, the South Korean intelligence community and experts dismissed the claims, saying North Korea is unlikely to have enough scientific know-how to design an H-bomb.
"We don't have any information that North Korea has developed a H-bomb," an intelligence official from South Korea's National Intelligence Service (NIS) told Yonhap news agency. "We do not believe that North Korea, which has not succeeded in miniaturizing nuclear bombs, has the technology to produce an H-bomb."
In October, the chief of the North American Aerospace Defense Command (NORAD) warned that North Korea now has sufficient nuclear capacity to attack the US mainland, but added that American air defenses would be able to shoot down any incoming warhead.
"We assess that they have the capability to reach the homeland with a nuclear weapon from a rocket," Admiral Bill Gortney, the head of NORAD, told an audience during a public event organized by Atlantic Council, a pro-NATO think tank.
You can share this story on social media: