Exposing explosive devices? Israel 'destroys Palestinian crops' along security fence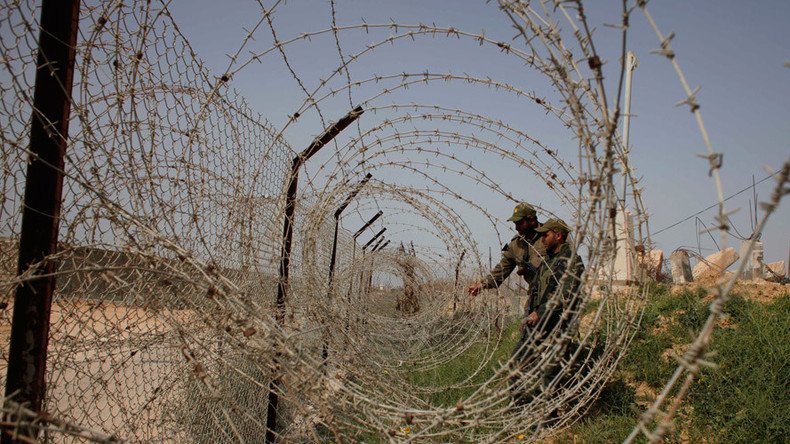 The Israeli military is spraying Palestinian crops with chemicals that "will cause the surrounding vegetation to wilt and prevent its growth," media report. The IDF told reporters the elimination of the crops ensures the security of its personnel.
"The aerial spraying of herbicides and germination inhibitors was conducted in the area along the border fence [with Gaza] last week in order to enable optimal and continuous security operations," media outlet +972 cited an Israeli Defense Forces (IDF) spokesperson as saying on Sunday.
The Israeli military said it has been spraying the crops with herbicide along the security fence within the Gaza strip perimeter "to prevent the concealment of IEDs [Improvised Explosive Devices], and to disrupt and prevent the use of the area for destructive purposes," Turkey's Anadolu Agency reported, citing an IDF written statement.
Last week Palestinian farmers cultivating land adjacent to the border with Israel complained that hundreds of acres of agricultural crops shriveled after Israeli planes had been spraying agricultural land for several days in a row.
After maintaining an unofficial "no-go zone" on the Palestinian side of the border with Gaza, the IDF is now seemingly implementing a "no-grow zone," +972 wrote, quoting Palestinian officials who estimated the damage caused by the herbicide spraying at over 420 acres of land.
Israeli herbicides have destroyed plantations of bean crops, parsley, pea and spinach around the al-Qarara area in eastern Khan Younis and the Wadi al-Salqa area in central Gaza, according to report from Gaza officials, cited by Maan news agency.
The restricted area along the Gaza-Israel border maintained by the IDF, estimated to be 300 meters wide, has claimed the lives of 16 Palestinians and left at least 379 wounded over the last several months, the majority of whom were participating in rallies near the fence.
For Israeli armed forces, which regularly enter Gaza territory to eliminate obstructions to the army's line of sight, including anything from structures to trees, the logic behind the herbicidal clearing along the border is to simplify identification for IDF soldiers.
Ruled by Hamas since 2007, the Gaza Strip and its 1.9 million inhabitants are living in conditions of a 'double blockade' from Israel and Egypt - after the latter closed its Rafah border crossing with Gaza in 2013, following the coup against Cairo's first freely-elected president, Mohamed Morsi.
Gaza's population lacks basic commodities like food, fuel and medicine, meaning any disruptions in the flow of goods from Gazan farmers to local markets results in a shortage of food supply for the citizens of the enclave.
You can share this story on social media: