Family of murdered Palestinian teen distraught after ringleader pleads insanity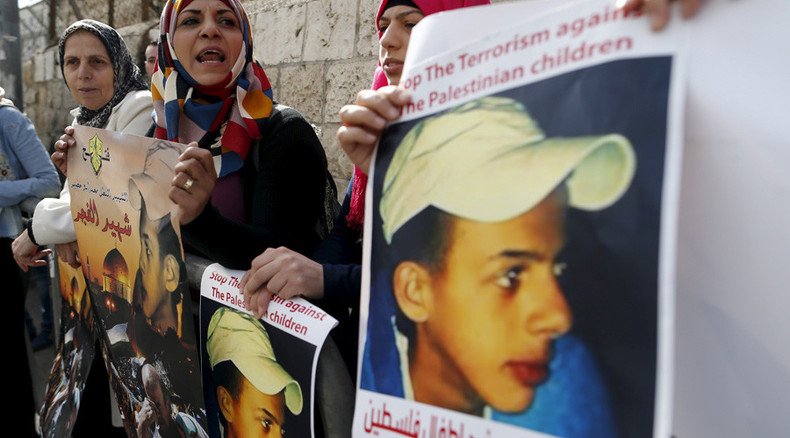 The family of a murdered Arab teen has blasted an Israeli court for stalling the conviction of the ringleader of the gruesome crime. Two minors were found guilty of murdering Mohammed Abu Khdeir, but a third man is facing a psychological review before being sentenced.
The decision made by a court in Jerusalem on Monday morning finally brought some closure to Hussein Abu Khdeir, after his son Mohammed was kidnapped and brutally murdered in July, 2014.
Two teenagers were found guilty of murdering the 16-year-old and will face sentencing in January. However, Abu Khdeir was outraged the ringleader, Yosef Haim Ben David, has not been convicted, even though he has been found guilty of carrying out the crime.
The court deferred his decision after his lawyers made a late plea for him to undergo psychological evaluation. The court says his legal status will be discussed on December 20.
"The trial has been carrying on for so long and only now Yosef Haim Ben David brought the evaluation saying he was crazy? He is clearly misleading the court," Hussein Abu Khdeir said. "What I saw today [in court] was utterly meaningless."
Gadi Gevaryahu, who is the head of the Tag Meir anti-racism NGO, said the postponing of Ben David's conviction was "disappointing."
"The [law] enforcement systems in Israel are not doing enough to stop Jewish terrorism. This non-conviction joins the legal system's reluctance to put to trial the killers of the Dawabsha family, whose identities are known to the defense establishment," he told the NRG website, as cited by the Times of Israel.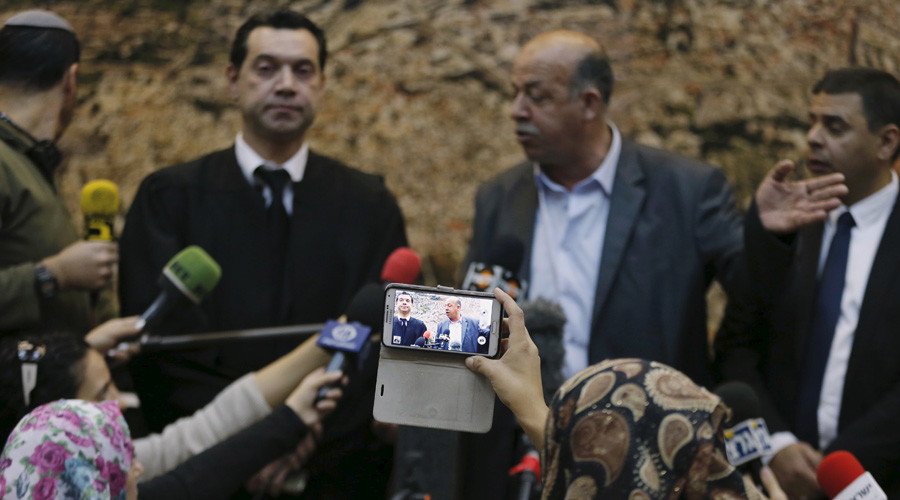 There are fears the delay in sentencing could lead to further violence between Israelis and Palestinians. Attacks have been going on for two months in Jerusalem and other cities over tensions surrounding a shared holy site known as Al-Aqsa Mosque to Muslims and Temple Mount to Jews.
Eighteen Israelis have been killed, mostly in stabbings, since mid-September. Eighty-eight Palestinians have been reportedly killed by Israeli fire. Of those, 56 are said by Israel to have been attackers. The rest were killed in clashes with Israeli security forces.
The ruling was welcomed by Israeli officials who stated that hate crimes would not be tolerated.
"The court determined unequivocally today that the three defendants committed the barbaric crime of abducting an innocent person because of his origin, and burning him alive," said state prosecutor Uri Korb, as cited by Reuters, as he vowed to contest any insanity plea.
"When we try to claim that we are better than our enemies - and I think that we are better than them - we should look at this event as a mirror," he said. "As a society we will continue to fight all avengers and lynchers, as we did in this case."
Mohammed Abu Khdeir suffered a horrific death after being kidnapped on July 2, 2014. An autopsy, carried out by Israeli doctors in Tel Aviv and attended by a Palestinian forensic expert, revealed that over 90 percent of the boy's skin was burned and he suffered a head injury.
"The direct cause of death was burns as a result of fire and its complications," Palestinian Attorney-General Mohammed Al-A'wewy was quoted as saying by the official Palestinian news agency, Wafa.
Fire dust material was found in the boy's respiratory system, meaning "the boy had inhaled this material while he was burnt alive."
On the same day Mohammad Abu Khdeir was killed, his cousin, Tarek Abu Khdeir (15 at the time and an American citizen), who was spending the summer in East Jerusalem with his uncle's family, was brutally beaten and detained by police.
The murder of Abu Khdeir was seen as a revenge attack for the killing of three Israeli Jewish teenagers the previous month. Their bodies were found on the 18th day of the search in a field northwest of Hebron on June 30. Israeli Prime Minister Benjamin Netanyahu Netanyahu vowed to bring the perpetrators to justice.
However, the fallout led to mass unrest between Israel and Palestine in the Gaza Strip, eventually leading to seven weeks of war.
Some 2,100 Palestinians, mostly civilians, were killed in the attacks, according to Gaza officials. The death toll among Israelis was 67 soldiers and six civilians.
You can share this story on social media: