Amazon donates profits from PEGIDA's chart-topping anthem to refugees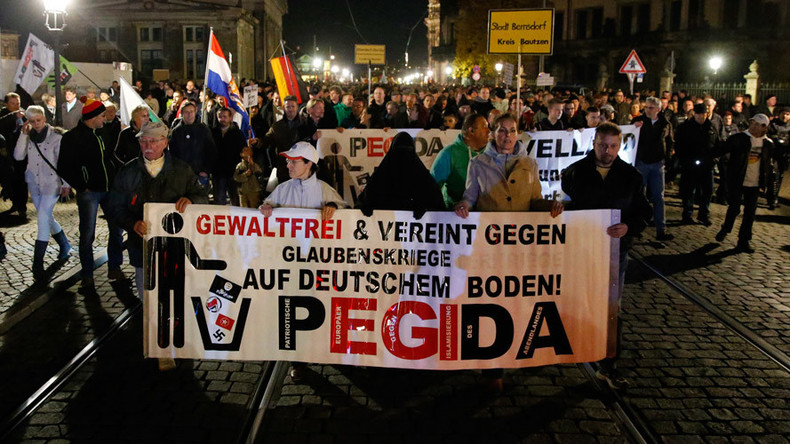 Amazon has taken a stand after a wordless anthem from the far-right European anti-Islamization PEGIDA movement temporarily grabbed the number one spot on the German version of the website from Adele's "Hello".
The "Gemeinsam sind wir stark - Die PEGIDA-Hymne" ("Together we're strong - the PEGIDA hymn"), produced by Peggy Sounds on the movement's first anniversary spent about four days in Amazon's top 10 bestselling singles. On December 30, the tune finally became #1.
However, on Wednesday a statement was placed on the website's product page for the song in question. It read: "Amazon's profits from selling this song will go to a charitable organization for supporting refugees."
Some commentators had mocked the anthem for its absence of lyrics, saying that this is all PEGIDA's platform is about. Others said the €1.29 price tag is excessive and it is better to buy something more substantial, like a kebab.
And although the PEGIDA hymn uploaded to YouTube received likes/dislikes in a proportion of 1:6, Amazon users have been voting with their pocket books, buying the music.
The PEGIDA movement was launched in October 2014 in the East German city of Dresden as an anti-migrant protest group, and soon its regular Monday rallies against the so-called "Islamization" of Germany, the "unregulated influx" of migrants and other policies of German Chancellor Angela Merkel started attracting thousands of people. The largest rally to date was held in October in Dresden, and attracted some 20,000 people as the movement celebrated its anniversary. As of now, the movement numbers tens of thousands of members in several European countries, where it stages marches through major cities under anti-Islamization and anti-immigrant slogans.
In January 2015, the movement found itself mired in scandal after a provocative selfie was published online of PEGIDA founder Lutz Bachmann posing with a Hitler moustache at a barber's shop. Later, Saxony's Sächsische Zeitung newspaper published Bachmann's original photo (without a mustache), claiming the first picture was doctored.