Post-anniversary PEGIDA rally draws over 10,000 'anti-Islamization' protesters in Dresden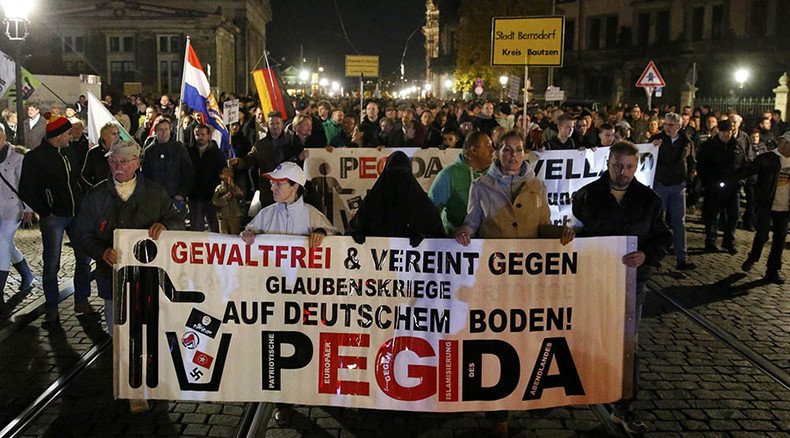 More than 10,000 PEGIDA activists took to the streets of Dresden in the wake of the latest plan to establish an additional 100,000 places in refugee reception centers in the EU and the Balkans.
The movement continues to speak out against the uncontrolled refugee flow and what it perceives to be the "Islamization" of Europe.
PEGIDA (Patriotic Europeans Against the Islamization of the Occident) supporters gathered for a "great evening stroll" to convene at the theater square, Sachsische Zeitung reported. Activists accompanied by police marched with flags and a placard depicting Federal Chancellor Angela Merkel wearing hijab.
More than 12,000 people gathered together, according to organizers. Lutz Bachmann, the founder of the anti-immigration movement based in Dresden, opened the rally. Speaking to the crowd he discussed direct democracy and the government's refugee policy.
The nationalist PEGIDA demonstration was met by around 1,500 counter-protesters, although police kept the two sides separate so as to avoid clashes. More than 450 officers were deployed in the city to keep security under control.
Germany has experienced a wave of Islamophobic and anti-migrant violence in recent months after it started to emerged as the main destination for refugees fleeing conflict zones in Syria and elsewhere.
Monday's protest comes exactly one week after thousands of PEGIDA supporters flooded central Dresden to mark the one-year anniversary since the organization's founding. The latest rally also follows a 17-point action plan announced on Sunday, established after an extraordinary meeting at the European Commission. It includes the creation of 100,000 places to accommodate migrants along the route from Greece to Germany.
Despite strong protests from local residents, the city government has allowed the refugees to move into a former school building in Dresden.
LISTEN MORE:
"They will have to move in this week," city spokesman, Kai Schulz, told the German Press Agency, as the first asylum seekers occupied the first house in the district of Prohlis. The house can accommodate 48 people. The second building will be available for use starting early November to further accommodate 144 people. By December an extra 96 sleeping quarters will be added.
READ MORE: Thousands rally in Germany as PEGIDA 'anti-migrant' movement marks 1 year since formation
PEGIDA has been strongly criticized by the German authorities, who call the organizers of the rallies "far-right extremists and demagogues." The movement is usually criticized for inciting racism, xenophobia and Islamophobia. Meanwhile the organization insists that "in a democratic society it must be possible to lead an open discussion and an open discourse about the dangers of uncontrolled asylum flooding."
You can share this story on social media: