US created ISIS, seeks discord among Muslims – Ayatollah Khamenei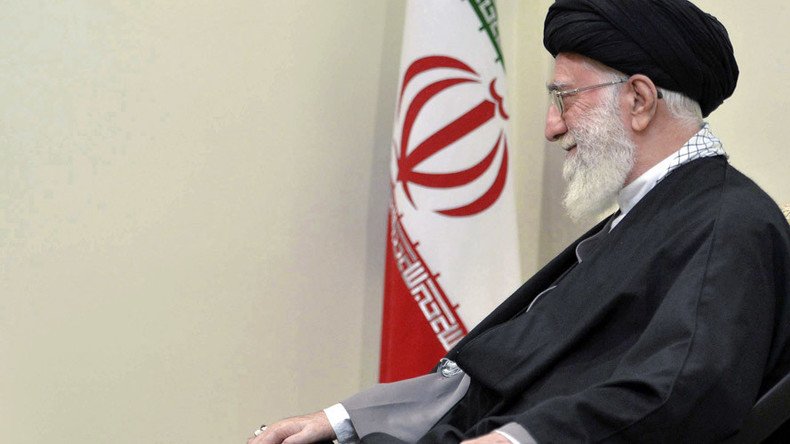 The US is hostile towards Islam and tries to create divisions between Muslims, said Iran's Supreme Leader Ayatollah Khamenei, also accusing Washington of conceiving the Islamic State terrorist group.
"One of the main tools used by the enemies to prevent the birth of modern Islamic civilization is through creating divisions among Muslims," Ayatollah Seyed Ali Khamenei said on Tuesday, as cited by Fars news agency.
Khamenei believes that the US is against the principles of Islam and promoting terror groups such as Islamic State (IS, formerly ISIS/ISIL).
"The present US officials are against the principles of Islam and, unlike their statements, they are after fomenting differences among Muslims, and its example is creating terrorist groups like Daesh (the Arabic acronym for ISIS) and other groups that have been created through the funding of the US affiliates and their political aids; they (the American officials) have caused the recent tragedies in the Muslim world," Khamenei said.
"The Shiite or Sunni does not make any difference for the Americans; they are against any Muslim who wants to live in accordance with Islamic rules and make efforts to that end."
Iran's spiritual leader insisted that "arrogant powers" are creating internal conflicts between Muslims and destroy infrastructures of Arab countries such as Libya, Syria and Yemen.
"…when the Islamic awakening started they grew worried and tried to contain it and they even succeeded in some countries, but the Islamic awakening cannot be destroyed…" the Ayatollah said.
He also criticized the Islamic world for keeping silent about the pressure exerted on Bahraini Muslims, the ongoing bombings in Yemen, as well as the situation in Iraq and Syria.
Criticism of the polarization of the Muslim world was also expressed by Iranian president Hassan Rouhani, who called for unity on Sunday.
"There is neither a Shiite nor a Sunni crescent. We have an Islamic moon. We, Muslims, are in a world where we must be united," the Iranian president said. "Does the destruction of Syria help strengthen Turkey, Jordan, Saudi Arabia, Qatar, the United Arab Emirates or other countries? Is anyone pleased by Syria's destruction, apart from Israel?"
Ali Khamenei, who became Iran's Supreme Leader in 1989 after the death of Ruhollah Khomeini, is a vigorous critic of the US policy.
The problem of Islamic State is a common challenge for Muslim states. Prominent politicians from Jordan, Egypt, Syria, Iran, Iraq, Turkey and other countries have criticized IS for its policy of terror, saying the group has nothing to do with Islam.
You can share this story on social media: