Normandy 4 agree to keep Minsk agreement alive in E. Ukraine in 2016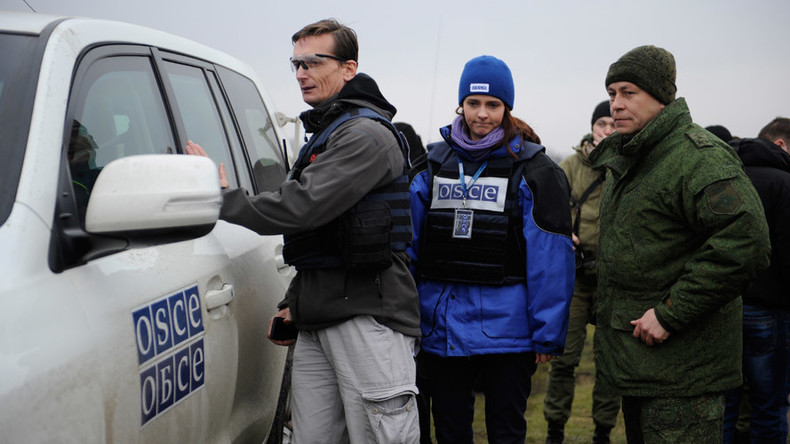 The leaders of France, Germany, Russia and Ukraine have agreed to extend the Minsk peace agreements into 2016. The deal is looking to try and bring an end to the conflict in eastern Ukraine after former President Viktor Yanukovich was ousted in a coup.
"German Chancellor Angela Merkel, French President Francois Hollande, Russian President Vladimir Putin and Ukrainian President Petro Poroshenko all pointed out the importance that all points of the Minsk accords are implemented in 2016," a statement from the Kremlin read.
During the talks, which were held between the four leaders over the telephone, the importance of holding local elections in the rebel Donbass region of eastern Ukraine was raised.
"Special attention was paid to preparing for local elections in the Donbass, which should take place at the start of next year. All those taking part in the talks showed their support for the working group regarding political issues, which is trying to implement the elections by the end of January 2016, whilst being assisted by the OSCE [Organization for Security and Cooperation in Europe] and Venice Commission," a statement from the French government read.
The foreign ministers from the Normandy Four are expected to meet in a month's time, the German government said in a statement.
The peace deal known as the Minsk Agreements was signed on February 12, and along with the ceasefire, envisaged the withdrawal of heavy weapons, prisoner swaps, special status for the rebel regions as well as constitutional changes implemented after direct negotiations between Kiev and the two self-proclaimed republics in the east.
On October 2, the leaders of the Normandy Four gathered in Paris where they agreed that in spite of significant progress in the peace process, the Minsk peace accords were unlikely to have been fully implemented by the end of the year, as was planned. Hollande pointed out the importance of elections in the Donetsk and Lugansk Regions, which must be held no later than 80 days after Kiev passes an electoral law.
Moscow has often accused Ukraine of failing to implement the accords, saying Kiev has explicit backing from Washington not to fulfill the agreement.
"We are concerned with the fact that the tensions [in eastern Ukraine] were increasing again in the last month. And this information is confirmed by OSCE monitors," Russian Ambassador to the UN Vitaly Churkin told the Security Council.
While the military side of the Minsk agreements is more or less being observed, Kiev still refuses any direct political dialog with the self-proclaimed republics' authorities, declining to coordinate any actions with them, even though it is envisaged by the Minsk agreements, Churkin emphasized.
"Compromise is something Kiev clearly does not want," Churkin stressed in his speech. At the same time, the Ukrainian government still sticks to belligerent rhetoric and continues its military preparations, he said.