'Provocative, close call': US military fume after Iran test-fires missile 1.3km away from USS Truman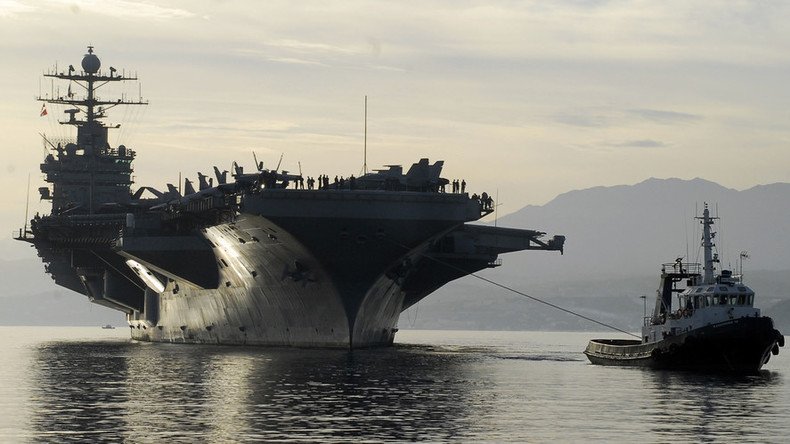 The US military was outraged when Iranian ships fired rockets in the Strait of Hormuz as the USS Harry S. Truman, an aircraft carrier, was reportedly passing 1,500 yards away. US Central Command called the drill "provocative, unsafe, and unprofessional."
The incident, which was originally reported on Tuesday via two unnamed US military officials speaking to NBC News, allegedly took place on Saturday.
One of the officials said that the US ships had been in an "internationally recognized maritime traffic lane" and not in any country's territorial waters during the time of Iran's naval exercises.
READ MORE: 'Significant step:' Iran transports its enriched uranium to Russia
Iran issued a warning over maritime radio shortly before conducting the missile test asking vessels to remain clear. The USS Harry S. Truman was about 1,500 yards (1371 meters) away from the launch location. The rockets were directed off the carrier's starboard side, away from commercial ships and the traffic lane, the sources said.
Yet, while Iranians were "clearly not" trying to target the US ship, the officials called the drill "unnecessarily provocative and unsafe."
A spokesman for US Central Command, Navy Commander Kyle Raines, has confirmed that a number of Iran's Revolutionary Guard vessels launched rockets "in close proximity" to the warships and other merchant traffic "after providing only 23 minutes of advance notification," Reuters reported.
"These actions were highly provocative, unsafe, and unprofessional and call into question Iran's commitment to the security of a waterway vital to international commerce," Raines added. "While most interactions between Iranian forces and the U. Navy are professional, safe, and routine, this event was not and runs contrary to efforts to ensure freedom of navigation and maritime safety in the global commons."
The USS Truman was in the area along with two warships taking part in the US-led coalition against Islamic State (IS, previously ISIS/ISIL). The USS Buckley, a destroyer, and a French frigate were entering the Persian Gulf through the Hormuz Strait at the time of the incident.
The carrier joined the anti-IS coalition on Tuesday with the launch of its first mission, the US Navy said. "Warfighting is the priority; that's why we are here," Navy Rear Admiral Bret Batchelder, commander of Carrier Strike Group 8, said in a statement.
"The Truman recently arrived in the Persian Gulf to begin striking ISIS in Iraq and Syria, ending a several-month US carrier gap in the region after the USS Theodore Roosevelt left in October," The Hill reported.
You can share this story on social media: