'Significant step:' Iran transports its enriched uranium to Russia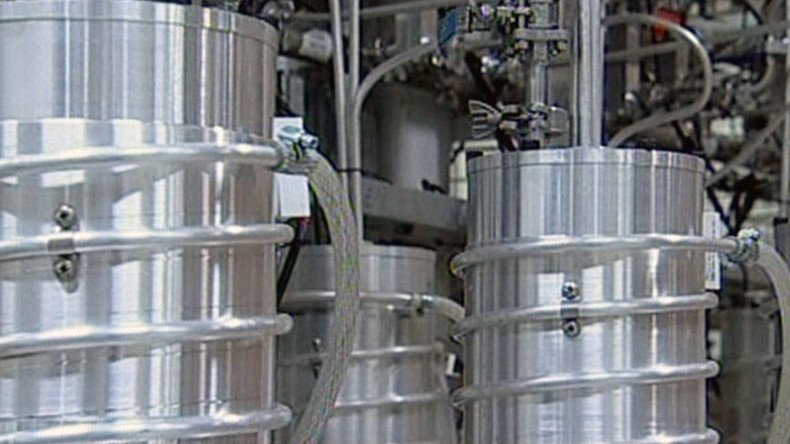 Iran has made a major step towards fulfilling its commitments under the July nuclear deal agreed upon with six world powers by shipping most of its low-enriched uranium materials to Russia, US Secretary of State John Kerry said in a statement.
Kerry confirmed that a ship carrying 11 tons of low-enriched uranium has left Iran for Russia, marking a milestone in the process of implementing the Iranian nuclear deal.

"The shipment included the removal of all of Iran's nuclear material enriched to 20 percent that was not already in the form of fabricated fuel plates for the Tehran Research Reactor," Kerry said, as quoted by Reuters.
"This removal of all this enriched material out of Iran is a significant step toward Iran meeting its commitment to have no more than 300 kilograms of low-enriched uranium," he added.
Russia also confirmed that it had finished the removal of enriched uranium from Iran under the deal, TASS reports, citing Russian diplomatic sources. Russian Deputy Foreign Minister Sergey Ryabkov had said earlier that Russia planned to take Iran's low-enriched uranium before the end of the year.
The removal of enriched uranium was one of Iran's key obligations under the deal, which aims to reduce the country's capability to potentially create nuclear weapons. In exchange, Russia will transfer 140 tons of raw uranium to Iran for further enrichment and use in its nuclear plants.

Ali Akbar Salehi, the head of the Iranian atomic energy organization, recently claimed that Iran has already received the uranium ore, AP reported.

However, Iran still has to significantly reduce number of its uranium enriching centrifuges, as well as re-engineer a reactor so as to cut its output of plutonium. Both processes are well underway, according to the UN International Atomic Energy Agency (IAEA).

In the meantime, on December 15, IAEA's board of governors adopted a resolution in which it stated that the Agency had "no credible indications of activities in Iran relevant to the development of a nuclear explosive device after 2009. Nor has the Agency found any credible indications of the diversion of nuclear material in connection with the possible military dimensions to Iran's nuclear program."
The report was the IAEA's final step under the "Road-map for the clarification of past and present outstanding issues regarding Iran's nuclear program," concluded between the IAEA and Iran in July in Vienna.

After IAEA confirms that Iran has met all of the deal's necessary requirements, most international sanctions imposed on Tehran due to its nuclear program will be lifted. This stage, known as implementation day, is expected to take place next month.
You can share this story on social media: