Japan finally ready to apologize for using South Korean female sex slaves during WWII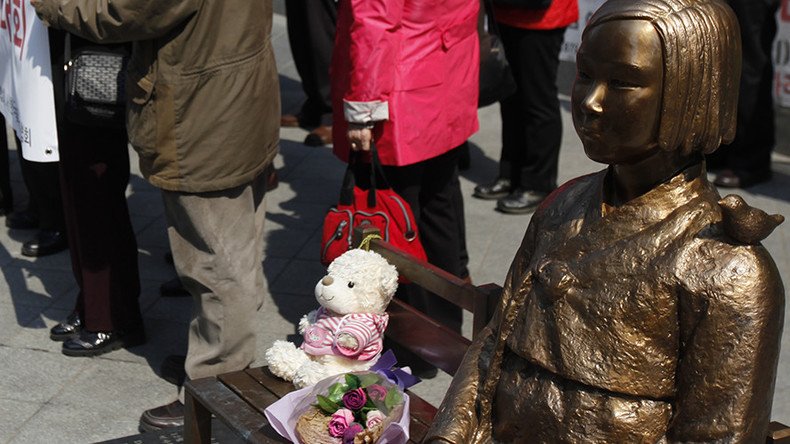 Japan has finally reached the stage where it is ready to apologize for enslaving thousands of 'comfort women' from South Korea during World War II – something that has long been a source of contention between the neighbors.
The agreement on Monday between South Korea and Japan is considered a landmark deal and concerns decades of animosity because of failure to agree that Korean women were forced into sex slavery run by the Japanese empire for the purpose of comforting soldiers.
If Japan fulfills its end of the bargain, the deal will be finalized, foreign minister Yun Byung-Se told reporters, after a meeting with his Japanese counterpart Fumio Kishida. Under the deal, Japan is to pay one billion yen (about $8.3 million) in compensation.
"The comfort women issue... occurred with the involvement of the Japanese military... and the Japanese government acutely feels its responsibility," Kishida said, according to Channel News Asia. He added that Prime Minister Shinzo Abe has expressed an "apology and repentance from the bottom of his heart" to those affected by the tragedy.
An additional strain on relations was applied four years ago, when a monument to the victimized women was unveiled in front of the Japanese embassy in Seoul. It is of a young girl, and was inaugurated in 2011, during demonstrations to mark the 1,000th rally on the issue. Japan wants the statue removed as part of the deal.
Demonstrations have been taking place since 1992, demanding an official apology. One appeared in 1993, as part of the Kono Statement, but many in Japanese circles, including Abe, believed that no coercion took place, which further derailed a rebuilding of ties.
The biggest source of animosity between the two nations came in 2012, during Abe's inauguration. The leader is considered to be taking Japan on a more nationalistic path than before, and has achieved notoriety for a refusal to acknowledge Japan's past crimes.
News of the agreement was very well received in South Korea, with President Park Geun-hye heralding it as a removal of "the biggest stumbling block" to the continued effort of improving bilateral relations.
In 1965, Tokyo made a payment of $800 million in grants and loans, which it maintains was enough. But this was done more as compensation for the war, and not for the specific issue, according to the South Koreans.
Word that the two were reaching a deal first emerged last month during a rare summit between the Japanese and South Korean leaders.
As many as 200,000 women, by varying estimates, were sexually enslaved by the Japanese during WWII. Today, fewer than 50 are alive in South Korea.
You can share this story on social media: