NATO to deploy AWACS aircraft to Turkey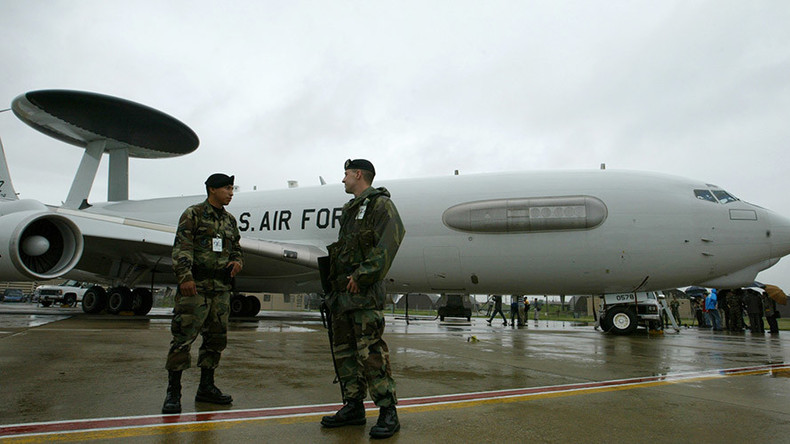 NATO is preparing to relocate E-3 Sentry AWACS aircraft from Germany to Turkey's Konya base, to monitor airspace at the border with Syria. A third of the personnel will be from Germany.
The German Defense Ministry informed the lower house of parliament (Bundestag) of the relocation in a letter obtained by Bild.
"An upcoming deployment of AWACS reconnaissance aircraft from the main base Geilenkirchen to the operational airbase Konya in Turkey is planned," the letter said.
The spokesman for the Defense Ministry has confirmed the information saying, "as we will make up 30 percent of the personnel on board, the Bundeswehr [German armed forces] is indeed affected," Spiegel reports. The spokesman provided no further details of how many German officers would be deployed, saying "NATO's planning is still in progress."
The Defense Ministry insisted in its letter the new deployment does not need to be mandated by parliament. The letter also said there was "no expected use of weapons during the mission," pointing out Islamic State (IS, formerly ISIS/ISIL) does not have air power, while Russia and Syria are unlikely to use their air forces against Turkey.
Tobias Lindner of the Greens, in charge of defense within his party, said he was worried the government kept lawmakers in the dark concerning such important developments. He said the lawmakers still have to know what sort of missions the aircraft will carry out and "how the collected intelligence will be used."
The E-3 Sentry is an airborne early warning and control aircraft, designed by Boeing in the late 1970s. Its visible rotating radar dome above the fuselage provides all-weather communication, target acquisition as well as command and control for various types of warplanes. As part of critical military capability, E-3s were rarely sold abroad, with the UK, France and Saudi Arabia being the only foreign operators.
NATO as a single entity is currently using 18 AWACS aircraft, all stationed at the German air base of Geilenkirchen.
READ MORE: Germany withdraws Patriot missile defense systems from Turkey
Earlier this month, Germany approved the deployment of up to 1,200 military personnel to Syria, and provided six Tornado reconnaissance jets and a Navy frigate to assist France's Charles de Gaulle aircraft carrier.
You can share this story on social media: