Flooding 'worst in 15 years' forces over 160,000 flee in Latin America (VIDEOS, PHOTOS)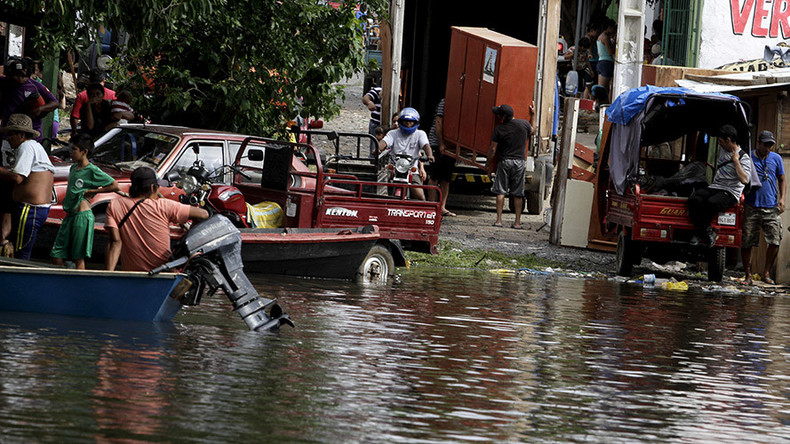 Over 160,000 people in Paraguay, Uruguay, Brazil, and Argentina have fled their homes as heavy summer rains have caused three major Latin American rivers to rise. The flooding – the worst seen in 15 years – has taken several lives in four countries.
A heavy El Nino has caused three large Latin American rivers to swell, forcing an estimated 160,000 people to flee for their lives, according to La Nacion.
In Paraguay – the worst affected country – the major Paraguay River has risen to within just 30 centimeters of the top of its banks, and a state of emergency has been declared in the capital city of Asuncion and seven regions by President Horacio Cartes. Some 130,000 people are reported to have evacuated their homes across the country, with several killed by fallen trees. There is no official death toll available so far.
Many of those evacuated were poor families living in very basic homes in Paraguay's riverside areas. Authorities say water levels may continue to rise in the coming days and are only expected to level off from January onward.
In Argentina, one of the largest countries in Latin America, some 20,000 people were forced to flee in the city of Concordia, where the Uruguay River has risen to 14 meters above its normal level. Local authorities say the country hasn't seen such a disastrous El Nino in the last 5 decades, La Nacion reports.
"We are going to have a few complicated months," Ricardo Colombi, the governor of the Corrientes region, was quoted as saying by Reuters on Sunday, after he had flown over the worst affected areas with Argentina's cabinet chief, Marcos Pena. "Argentina has a very big lack of infrastructure," Pena admitted.
Almost 1,800 people in nearly 40 towns in the southern Brazilian state of Rio Grande do Sul were also forced to leave their homes. In Uruguay, the number of evacuees is nearing 9,000, according to the national emergencies authority, which said it expects water levels to remain at their current level for several days before falling.
This year's "El Nino," which sparks global climate extremes, is the most severe in more than 15 years, the UN weather agency, the World Meteorological Organization (WMO), said in an update earlier in November.
You can share this story on social media: