Muslim prayer hall damaged, copies of Koran burnt in overnight rampage in Corsica
An angry mob retaliating over attacks on firefighters and police has ransacked a Muslim prayer house in the French island of Corsica. The crowd set books, including several copies of the Koran on fire.
Tensions mounted in Ajaccio, Corsica's largest city of some 65,000 residents, after a night of violence in Jardins de L'Empereur. Two firefighters and a police officers were injured in what the authorities described as ambushes by "several hooded youths" in the low-income neighborhood.
On Friday afternoon, some 150 demonstrators gathered in front of the police HQ in a show of support, AFP reported citing officials. But part of that crowd broke off and joined an estimated 600 people, who marched towards the housing estate where violence had occurred the night before. The crowd was shouting slogans in Corsican, such as: "Arabs get out!" and "This is our home!"
The angry demonstrators ransacked a nearby Muslim prayer house, smashing glass and partially burning some 50 books, including copies of the Koran.
Local police put five Muslim prayer houses in Ajaccio under protection and maintained a presence on the housing estate overnight, regional official Francois Lalanne told the news agency.
French officials condemned the violence in Corsica perpetrated by both those who attacked the firefighters and those who ransacked the prayer house. French Interior Minister Bernard Cazeneuve said the latter showed signs of "racism and xenophobia." Local authorities pledged to arrest those responsible.
Anti-Muslim sentiment is rising in France in the wake of the terrorist attacks on November 13 in Paris that killed 130 people. The Islamic State terrorist group claimed responsibility for the violence in the French capital.
Read more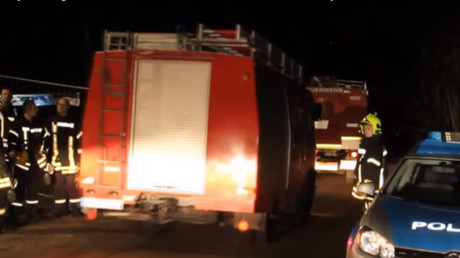 Corsica, a small Mediterranean island, has a long history of nationalistic movements, which occasionally lead to violence. Anti-immigrant and nationalist parties performed well during last month's regional election, giving the department its first-ever nationalist government.
Political analyst, Cecile le Roux, told RT the "absolutely awful" events in Corsica are the obvious consequence of policies pursued by French President Francois Hollande and his government.
"The current government seems to have entered in a direct competition with the right-wing" politicians, who are promoting Islamophobia in the country with the same "methods, words, feelings and atmosphere," she said.
According to le Roux, the introduction of a state of emergency, which saw 7,000 searched without warrant, "really seem to be a very vote collecting oriented" move by the authorities.
"Many experts are saying that it's really the beginning of the end of normal life for Muslim citizens in France. And unfortunately, this seems to be [the case] after the Paris attacks and the anti-Muslim feelings that are coming around everywhere. What happened in Corsica seems to be a direct manifestation of that," she said.
Instead of containing Islamphobila, "the government has decided to use terms such as 'we are at war with Daesh (Islamic State)' and in the French general mind to say that… means that you're at war with all Muslims," the analyst added.