Turkish 'traitor' MP's revelations on sarin transfers must be probed, reported to UNSC – Moscow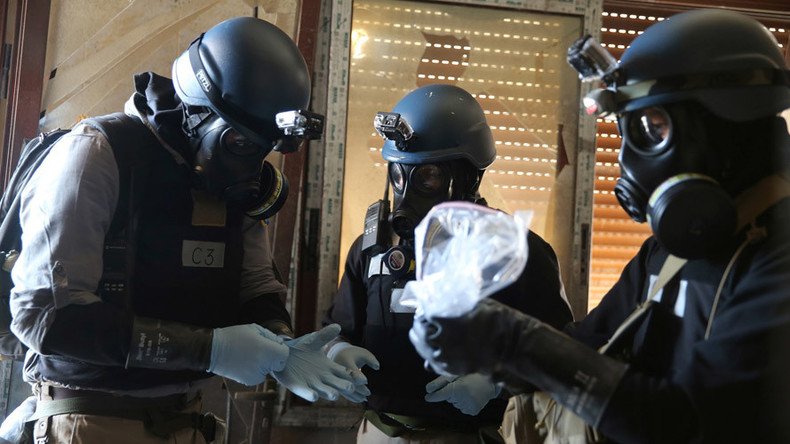 Russia has expressed hope that a joint OPCW-UN investigation of deadly sarin attacks in Syria will not ignore reports from a Turkish MP, who faces charges of treason for exposing Ankara's alleged role in hiding ISIS-bound shipments of gas precursors.
The so-called Joint Investigative Mechanism (JIM) consolidated the efforts of the UN and the Organisation for the Prohibition of Chemical Weapons (OPCW) with a mandate to identify people involved in the use of chemicals weapons in Syria under the Security Council resolution 2118.
"This specialized mechanism should thoroughly investigate the information provided by the Turkish parliamentarian in accordance with its mandate, and report back to the UN Security Council," Ministry's spokeswoman Maria Zakharova said in a statement.
The parliamentarian in question – Eren Erdem of the opposition Republican People's Party (CHP) – was accused of "betrayal" by Turkey's President Recep Tayyip Erdogan, after telling the media that the Islamic State terrorists in Syria received all necessary materials to produce deadly sarin gas via Turkey.
Erdem revived concerns regarding a possible cover-up following the sudden termination of a local criminal case in Adana into the illegal shipments. Furthermore, Erdem argued that the West purposefully blamed the government of Bashar Assad for the August 2013 chemical attack in Ghouta that was used as part of the pretext to make US military intervention in Syria possible.
READ MORE: Top Turkish 'traitors' according to Erdogan and Davutoglu
Noting Erdem's attempt to shed light onto the hushed scandal, the Russian Foreign Ministry however said there was nothing striking in his revelations. In 2013, Zakharova recalled, a number of sources, including Turkish ones, reported the arrest of suspects involved in deliveries of chemical components and sarin precursors across Turkey's border.
"Then the case, as we understand, was 'soft-pedaled', while the main suspects avoided prosecution and fled into Syria," Zakharova said. "So Erdem's revelations come for us, and not just us, as nothing new."
Moscow wants to get to the bottom of sarin attacks in Syria, which were immediately pinned on the Syrian leadership without a proper investigation. The allegations and ramifications were so severe that Damascus immediately agreed to get rid of all chemical weapons stockpiles under a UN-brokered deal to avoid a US-led military intervention.
The unprecedented terror attack in the Damascus suburb that happened just several months after the botched Turkey investigation, saw the same chemicals used. It was an "evident attempt" to build a case again the Syrian army using a "home-made chemical charge" to fabricate "dubious evidence," Zakharova said. She noted that not just Erdem, but also a number of "independent western experts" raised doubts about the narrative that had echoed in the western media.
"This [Ghouta terror] act, by all indications, was dictated by the desire of certain circles to provoke a foreign military intervention in order to topple the legitimate government ... a well proven scenario tested in several other countries of the region," Zakharova added.
"We hope that sooner or later the true perpetrators and organizers of this and other similar crimes will be identified and be properly punished," Zakharova concluded.
You can share this story on social media: