Turkish forces barely regrouped, far from announced partial withdrawal – Iraqi defense spokesman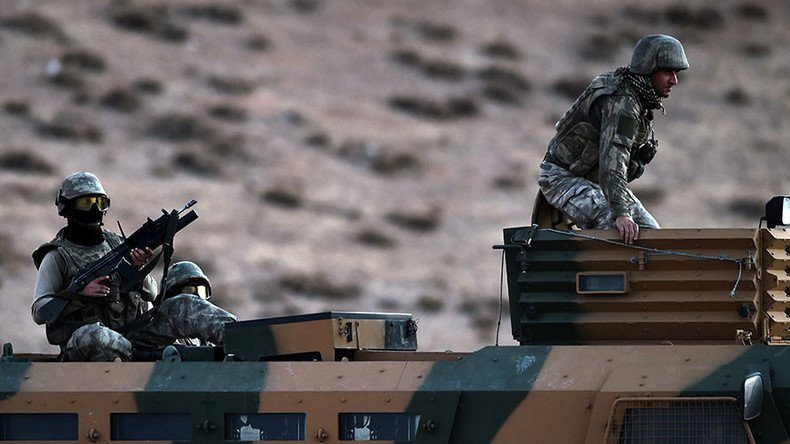 Despite the announcement of a "partial withdrawal" of Turkish forces from a training camp near the ISIS-controlled northern Iraqi city of Mosul, Ankara has done nothing to follow up on its empty statements, the Iraqi defense ministry says.
"In fact there is no Turkish troop withdrawal. There are just statements from Anakara," said Iraqi defense ministry spokesman Nasir Nouri Mohammed, TASS reported. According to the spokesman, Ankara's forces "only slightly relocated near the same positions."
This cannot even be called a "partial withdrawal," Nouri Mohammed said, let alone a full withdrawal of the Turkish contingent.
Tensions between the two countries have increased dramatically since Turkey reinforced its military deployment in Iraq with about 150 soldiers backed by artillery and around 25 tanks in a base near the Islamic State (IS, formerly ISIS/ISIL)-controlled northern Iraqi city of Mosul on December 4.
The Iraqi government considered this action as an hostile act in violation of its sovereignty and demanded the immediate withdrawal of Turkish troops.
Nouri Mohammed expressed hope that Turkey would follow up on its promises and will proceed to the "actual withdrawal" of its contingent. Yet, the spokesman reiterated, "no concrete steps" have been taken by Ankara so far.
On Sunday, the president of Turkey, Recep Tayyip Erdogan, announced the withdrawal of military troops from Iraq to reduce tensions following international criticism. The decision to pull out troops also came after Iraq brought the issue to the United Nations Security Council.
Yet despite the announcement made by Erdogan on December 20, Turkish Prime Minister, Ahmet Davutoglu said Tuesday that the troops will remain in Iraq to fight IS militants. According to the PM, Turkish training and equipment mission for Iraq will continue until IS-held Mosul is liberated.
"Within this framework and in line with Iraqi authorities' demands, we have been providing training and equipment to both the Peshmerga and the local Mosul volunteers. Our support will continue until Mosul is liberated," Davutoglu said, Hurriyet Daily News reported.
Addressing national assembly members on Tuesday, Turkish defense minister Ismet Yilmaz said that IS is a direct security threat for Turkey.
"Ensuring Iraq's stability passes from neutralizing Daesh [the Arabic name for IS]. This can only be possible through the recapture of Mosul, which has, in the first place, strategic importance," he said.
IS captured Iraq's second-largest city in 2014. The United States and its allies have been carrying out air strikes against Islamist militants in Iraq since August 2014, but are yet to produce any tangible results.
You can share this story on social media: