Iraq urges UN Security Council to demand Turkish troops withdrawal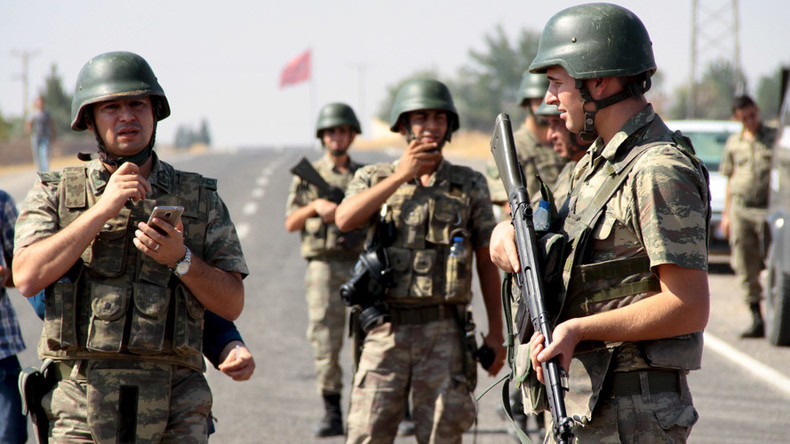 Iraq has urged the UN Security Council to pass a resolution calling for withdrawal of Turkish troops, which Iraq views as an "authorized invasion." Turkey responded by accusing Iraq of sabotaging the fight against Islamic State (IS, previously ISIS/ISIL).
The Security Council met Friday following a request from Iraq. At the meeting, Iraqi Foreign Minister Ibrahim al-Jaafari asked the 15-member council to adopt a resolution that would demand Turkish withdrawal.
"Iraq has spared no effort to exhaust all diplomatic channels and bilateral negotiations with Turkey, in order to withdraw its forces that are unauthorized in Iraq," Jaafari said.
He said he wanted the resolution to consist of two main points. "First, condemn that illegal Turkish occupation and invasion," which violated Iraq's sovereignty as well as UN Charter and international law. "Second, demand that Turkey immediately withdraws its troops and to ensure that all appropriate measures are taken to recognize the border between the two countries," Jaafari said.
According to Jaafari, UNSC complaint was his last resort.
Tensions between the two countries have increased dramatically since Turkey deployed about 150 soldiers backed by artillery and around 25 tanks to a base near the ISIS-controlled northern Iraqi city of Mosul on December 4.
Turkey has consistently claimed the troops were deployed in order to train local Kurdish Peshmerga forces, adding that the move complied with previous agreements between Ankara and Baghdad.
However, Iraqi authorities regard the move a flagrant breach of the country's sovereignty and have repeatedly called on Ankara to withdraw its forces.
At the UNSC meeting, Turkey's ambassador to the UN, Halit Cevik, repeated the party line, stating that the troops were sent into Iraq for protection in light of increased security threats. Cevik argued that now the soldiers on the ground could target IS fighters.
"From the outset, we tried to resolve this matter through bilateral channels. Because taking this issue to various international platforms would serve no other purpose than to undermine the solidarity of the international community against Daesh," Cevik told the Security Council.
Meanwhile, US President Barack Obama called on Turkish President Recep Tayyip Erdogan on Friday to de-escalate the situation, according to the White House.
During a phone conversation, Obama "urged President Erdogan to take additional steps to deescalate tensions with Iraq, including by continuing to withdraw Turkish military forces."
At the same time, Obama "reinforced the need for Turkey to respect the sovereignty and territorial integrity of Iraq."