Anger in Delhi as Supreme Court rules against extending gang rapist's sentence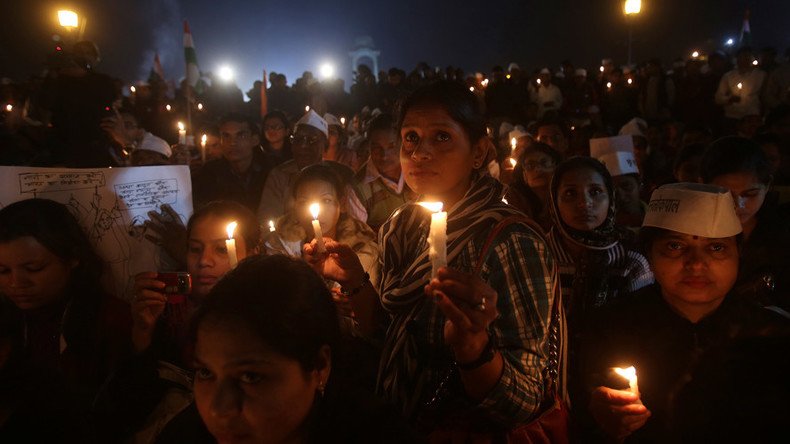 The Supreme Court of India ruled that it has no power to detain the youngest man convicted of the 2012 fatal gang rape on a Delhi bus. The man was released from prison as Indians took to the streets to protest. 
The man was just shy of 18 at the time of conviction. He served three years and is currently being housed with a charity.
Police reports state he was the most violent of the attackers, raping the woman twice, once when she was unconscious and according to the police report, he "ripped out her intestines with his bare hands."
Demonstrators, led by the victim's parents, protested in Delhi on Sunday in a display of frustration at the leniency afforded for a crime that caused outrage in India and shined an unflattering light on the country's rape problem.
The attack took place on a moving bus in Delhi in 2012. Jyoti Singh, a 23-year old physiotherapy student, was violently raped by a group of six men. Her friend was beaten with an iron rod when he tried to stop them. The woman was then penetrated with the rusty, L-shaped rod. The two were badly beaten before being thrown from the bus.
Singh died in a hospital two weeks later from internal injuries.
The violence of the attack captured the attention of the world. Vigils and protests denouncing the violence were held around India and politicians from rival parties came together to condemn the attack. Delhi's police official said he had never seen an attack as brutal.
India introduced tougher rape laws in response to the outcry and calls for the death penalty. The maximum sentence for rape in India was previously 10 years, but has been increased to 20. Voyeurism, stalking and trafficking women were criminalized.
Four of the men were sentenced to death, the fifth died in prison. It is disputed whether it was a suicide or murder. When sentencing the four rapists, Judge Yogesh Khanna said, "This case definitely falls in the rarest of rare categories and warrants the exemplary punishment of death."
Around 20,000 students in Bangalore took part in a signature campaign on Monday morning to protest the rapist's release. The National Student's Union of India hopes to arrange more protests around India.
You can share this story on social media: