'Bound to fail': Dividing Syrian rebels into moderates & extremists is useless, study says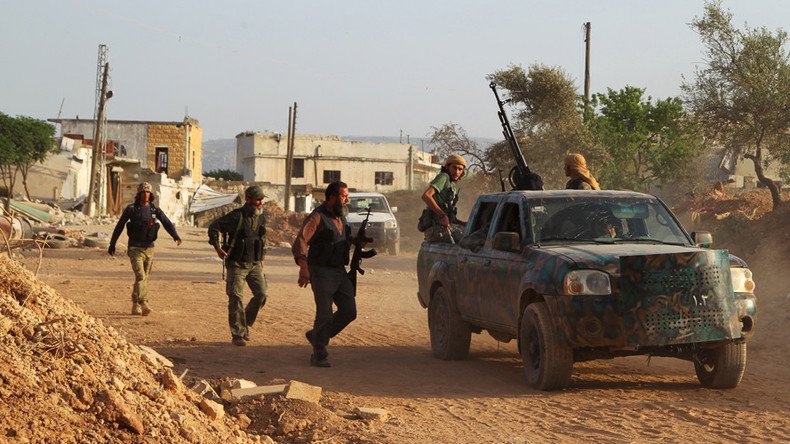 Attempts to divide Syrian rebels into moderates and extremists are "bound to fail," according to a think-tank run by the Tony Blair Faith Foundation. The groups banded together based on pragmatism, not ideology, the report suggests.
The report, published by the Centre on Religion & Geopolitics on Monday, states that groups form coalitions when they share objectives – regardless of ideology. It cites examples of Islamists and non-Islamists battling Assad and Islamic State (IS, formerly ISIS/ISIL) together.
"Syrian nationalists and Kurdish separatists fight ISIS together in the Syrian Democratic Forces coalition in the east," the report states, adding that "groups also tend to be spread out all over Syria; some fighting each other in one part of the country while other members are in coalition elsewhere."
Because such overlaps are "endless," attempts by international powers to distinguish between "acceptable" moderates and "unacceptable" extremists are flawed, the report says.
'60% of major rebel groups are Islamist extremists'
The think-tank studied 48 rebel factions in Syria, finding that 33 percent – nearly 100,000 fighters – follow the same ideology as IS. If account Islamist groups (those who want a government run according to Islamic law) are taken into account, the number of Islamist extremists within the rebel ranks in Syria increases to 60 percent of major rebel groups.
The report says those groups which do not follow IS ideology are often affiliated to the Free Syrian Army and are "defined largely by objectives." It notes that "many are willing to fight with extremists, and would probably accept an Islamist political settlement to the civil war."
In addition, the document states that extremism continues to grow due to the "world's inaction." The think-tank stresses that "six coalitions still active in the conflict today" were established in just over a year, after there was no international intervention following a 2013 chemical weapons attack in Ghouta.
"This indicates that, in lieu of significant global support, the rebel groups consolidated to strengthen their hands against the regime," it states.
'Ousting Assad is only way to end war'
But the civil war has no hope of ending unless President Bashar Assad is ousted from power, according to the think-tank.
"A full 90 per cent of the groups hold the ousting of Assad as a major goal. This finding makes it clear there can be no peace deal that keeps Assad in power," the report states.
It noted that the West is currently focusing more on IS than addressing what prompted the uprising in the first place – toppling Assad. As long as this continues, "extremists will continue to use [Assad's] rule as a recruiting pitch," the report stated, adding that defeating IS was a goal shared by just 38 percent of those studied.
Meanwhile, the second-most dominant objective in the sample was the establishment of some sort of Islamic law. However, views on applying such law vary greatly.
"Salafi-jihadi groups seek to implement a single interpretation of Islamic law on the state, according to a literalist reading of scripture. Islamists want a dominant role for an interpretation of Islamic law in legal, economic and political spheres. Other groups simply wish to follow the lead of many Muslim majority legal systems, in which 'sharia' is the guiding principle of legislation," the report stated.
'65k jihadists ready to replace Islamic State'
The report notes that the 16 Salafi-jihadist groups fighting in the Syrian civil war have some 96,000 fighters in their ranks, and that IS only accounts for 31,000 of those, according to the latest CIA figures.
It goes on to say that if IS is defeated, there are "at least 65,000 fighters belonging to other Salafi-jihadi groups" who are ready to take its place.
"In our study alone, there are 15 Salafi-jihadi groups, many opposed to ISIS, which share the group's vicious ideology and will benefit from its defeat. Of these, eight have explicitly committed themselves to international jihad, making them highly likely to support attacks on the West," the report says.
Run by the Tony Blair Faith Foundation, the Centre on Religion & Geopolitics aims to present "informed analysis on the interaction of religion and conflict globally," according to its website.
You can share this story on social media: