Russian FM plans to meet co-leader of Turkey's pro-Kurdish HDP party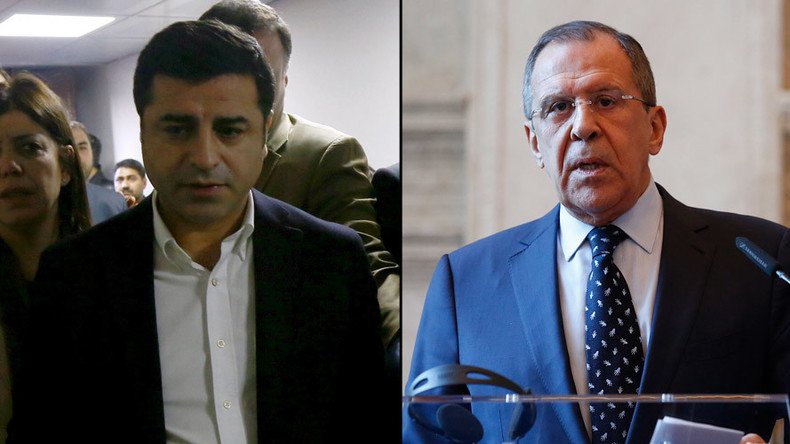 Russian Foreign Minister Sergey Lavrov is planning a meeting with the co-leader of Turkey's pro-Kurdish Peoples' Democratic Party (HDP) Selahattin Demirtas this week, according to sources in the Foreign Ministry.
"Such a meeting is planned," a source in the Russian Foreign Ministry told RIA Novosti.
Earlier, Demirtas said that he would hold a meeting in Moscow with Lavrov on Thursday, Turkish media reported. The opposition leader said he wanted "to talk about the recent tension between Turkey and Russia" during the visit.
"Many people, many businesspeople and students, are affected by this tension. Turkey does not take a step [to improve relations]. The president [Recep Tayyip Erdogan] has closed all doors. We are effective and we want to use our power," he said.
He added that HDP is seeking to "open a party office in Moscow."
READ MORE: Kurds & US Special Forces should be used to seal Turkish-Syrian border – Russian FM
The HDP is relatively new to Turkish politics. It was founded in 2012 as the political wing of a union of several left-wing groups. Those include proponents of women's rights and gay rights, secularists, anti-capitalists and environmentalists involved in the Gezi Park protests.
Erdogan has accused the HDP of being a front for the Kurdistan Workers' Party (PKK), which has been fighting the Turkish state since 1984 for Kurdish self-determination. The organization is considered a terrorist group by Turkey, the US and NATO.
During Ankara's recent military crackdown in southeast Turkey, the HDP severely criticized Turkish authorities over violence toward the Kurdish population. Kurds make up between 10 percent and 25 percent of Turkey's population.
READ MORE: Simultaneous explosions at pro-Kurdish party HQs in Turkey (PHOTOS)
The HDP has endured dozens of attacks across Turkey. One of the deadliest took place in October where dozens of people were killed and scores injured in two blasts at a peace rally in the Turkish capital, Ankara. HDP then claimed that their members were especially targeted in the deadly explosions.
"Just after the beginning of the march …two bomb attacks occurred among the HDP cortege. For this reason, it is understood that the main target of the attacks was the HDP," the party said.

Demirtas blamed the government for the attack, saying that it was part of Erdogan's campaign against the Kurds.
"The government's right and chance to hum and haw has long expired. You are murderers. Your hand is bloody. Blood has splattered from your face, your mouth to your nails and all over you. You are the biggest supporters of terror," Demirtas said.
Moscow-Ankara relations have soured recently after Turkish military downed a Russian Su-24 bomber close to the Syrian border. Ankara refused to apologize, saying that the Russian aircraft violated Turkish airspace – a claim that Moscow denies. Russian since then has accused Turkey of buying smuggled oil from ISIS and has imposed economic sanctions.
You can share this story on social media: