Blatter on ban: 'If US got World Cup 2022, I wouldn't be sitting here'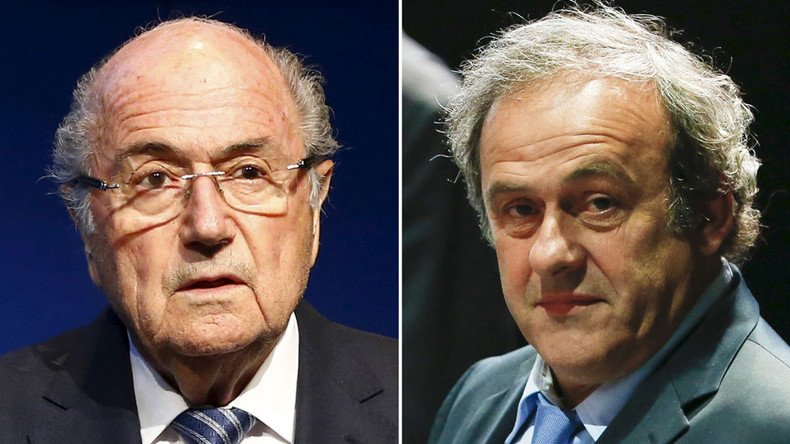 FIFA's ethics committee has banned its suspended president, Sepp Blatter, and European soccer boss Michel Platini for eight years. Blatter pledged to challenge the ruling and accused the US of pettiness.
The pair was suspended on Monday over a 2 million Swiss franc ($2.02 million) payment by FIFA to Platini in 2011, which is currently being investigated. Both men deny any wrongdoing.
Blatter said he intends to challenge the decision of the committee at FIFA's appeals body, go before the Lausanne-based sports arbitration panel, or take legal action under Swiss law if needed.
"I will fight for me and I will fight for FIFA," he said at a press conference.
He reiterated his allegations that the US is taking revenge on him and FIFA over the failure of its bid to host the 2022 World Cup.
READ MORE: FBI claims FIFA official paid $10mn bribe for 2010 World Cup votes
"We wanted to go to another superpower [after World Cup 2018 in Russia], the United States. If this came true, I wouldn't be sitting here today," he said, stressing that he doesn't believe that the ethic committee's decision was taken under pressure from Washington.
The 2022 soccer championship was controversially awarded to Qatar.
Blatter added he regrets that FIFA members are being victimized and believes he personally is being used as a "punching bag."
READ MORE: US asks for extradition of 7 FIFA officials - Swiss authorities
Commenting on the development, Russian Sports Minister Vitaly Mutko said it would hurt European soccer. He added that Blatter didn't deserve such an end to his soccer career. Blatter will be 87 when the ban expires, making his return to active work in soccer unlikely.
The two top soccer officials were banned amid a wider corruption scandal that has shaken FIFA since May, when several senior soccer officials were arrested in Zurich. The US is leading the investigation into alleged corruption in FIFA dating back decades.
Blatter was reelected as FIFA president on May 29. On June 2, FIFA abruptly called a press conference at their Zürich headquarters, where Blatter announced that he would resign from the post of FIFA president amid the ongoing corruption scandal.
Fourteen officials have been charged with corruption-related crimes. Some of them have been extradited to the US to stand trial.
The scandal and how it broke out remains a controversy. While speculation about corruption in FIFA had been swirling around for years, the US taking over the probe rather than allowing national law enforcement to do the job has been viewed by many as yet another bid by Washington to extend its national jurisdiction around the world.
You can share this story on social media: