Fundamentalist flap: Pakistani Taliban dubs ISIS 'un-Islamic local gang'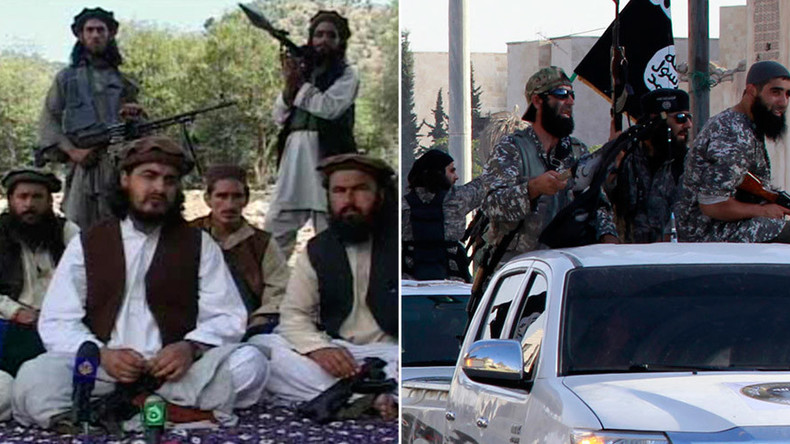 The Pakistani Taliban has dubbed Islamic State (IS, formerly ISIS) "un-Islamic" for its methods and strongly criticized leader Abu Bakr al-Baghdadi. As IS attempts to widen its influence beyond Syria and Iraq, it seems to be making a few 'frenemies'.
The Taliban's Pakistani branch, or Tehreek-e-Taliban, is the latest militant group angered by IS's pretentions to a caliphate. It believes al-Baghdadi is no caliph and definitely not the leader of the world's Muslims, rating him as merely a local gang boss.
These beliefs, according to Reuters, were outlined in a scathing letter on Saturday and follow similar sentiments expressed by other militant groups – that al-Baghdadi is no real caliph, because he doesn't command the world's Muslims, rather only people in a particular territory.
Not that the Pakistani Taliban doesn't want to set up its own Sharia state by toppling the government in Islamabad. However, those ambitions are local. IS, they fear, has little to do with South Asia anymore. The two Taliban groups (the other in Afghanistan) share the view that only centralized leadership will work in their share of the region – a view expressed earlier in the Afghan Taliban's own letter to al-Baghdadi's group.
The cruelty of IS gets special mention in the current address by the Pakistani branch. Again, similar statements were made to ones expressed by the Afghan denomination, that killing mujahideen of the Taliban indiscriminately and barbarically disqualifies IS from being real Muslims.
The message went on to state that al-Baghdadi's selection as leader was not in accordance with Islamic rules.
READ MORE: Al-Qaeda leader says he would join ISIS fight against West, secularists, Shiites
It further reminded the reader that IS had very little sway with Muslims in places like Egypt, Yemen, Libya – and even Afghanistan, where the other branch of the Taliban recently had its feathers ruffled by IS's expansion.
Al-Baghdadi's 'gang', as the letter referred to it, has moved to seize large areas belonging to the Taliban in Nangarhar province, nowhere near its stronghold in Iraq and Syria; Further to this, IS was reported to be turning disaffected Taliban fighters over to its side.
A similar fate befell the Pakistani branch, which last year had several segments declare allegiance to IS and join the campaign to set up a global caliphate.
In view of these latest development experts are concerned with a combination of factors that could impede security even further in the Afghanistan/Pakistan region. Chief among them is the withdrawal of US forces from the former nation. The Pakistani government worries that other groups, including IS and the Haqqani network, could use this lack of security to their advantage (the two countries have been pointing fingers at each other for mismanaging the security situation throughout the US campaign in Afghanistan).
The government has local groups trying to topple it as well – another set of rivalries IS could exploit, it fears.
But animosity towards IS did not start with its expansion into Afghanistan. Al-Qaeda leader Ayman al-Zawahiri never made it a secret that he views the group as "illegitimate." It wasn't until much later that Al-Qaeda realized it needed to work together with other militants to counter the West, Shiites and "secularists."