Al-Qaeda leader says he would join ISIS fight against West, secularists, Shiites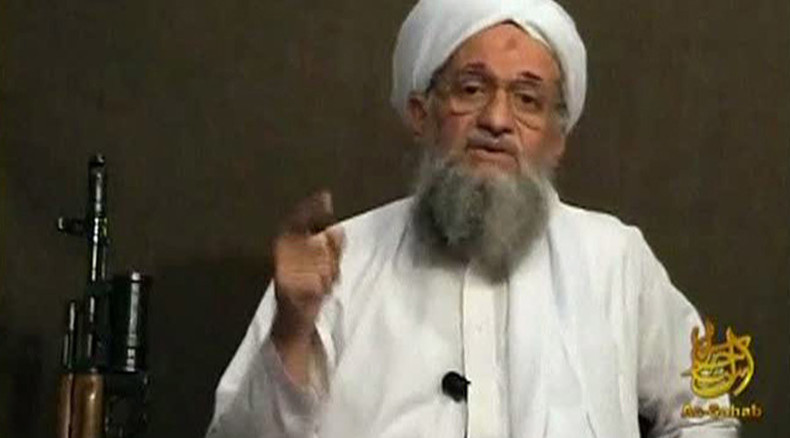 Although Al-Qaeda's chief regards Islamic State and its leader as "illegitimate," he would consider joining efforts with the rival terrorist organization in order to counter the West, Shiites and "secularists," an audiotape on the internet has revealed.
In an audiotape recently emerged on the internet, Ayman al-Zawahiri said "We don't recognize this caliphate," referring to Islamic State (IS, formerly known as ISIS\ISIL) and renounced its leader Abu Bakr al-Baghdadi as illegitimate, Reuters reported on Wednesday.
READ MORE: US seeks fix to failed training of anti-ISIS Syrian rebels
However, Zawahiri also suggested that fight against the West could require joining forces with the rival organization, which has already taken control of large parts of Syria and Iraq in a bid to create a caliphate there. Both countries have been suffering air strikes from the US-led coalition for about a year.
"Despite the big mistakes [of Islamic State], if I were in Iraq or Syria I would cooperate with them in killing the crusaders and secularists and Shi'ites even though I don't recognize the legitimacy of their state, because the matter is bigger than that," Zawahiri said.
The recording was made at least eight months ago, according to indications of some events, but the precise date when it was made wasn't clear, according to Reuters.
The expansion of Islamic State has become a reason for some sort of rivalry for the status of the world's leading jihadi organizations, with some small groups affiliated with Al-Qaeda having sworn allegiance to ISIS last year.
"Zawahiri says that ISIS is absolutely not a caliphate and Baghdadi doesn't deserve to be caliph," Al-Qaeda expert Will McCants of the Brookings Institution told Reuters. "However, it is an emirate and if he were in Iraq and Syria, he would fight alongside it. That seems like a bit of an olive branch."
Islamic State, whose main focus has been land occupation, has found support of over 30 militant groups in the Middle East, Asia and Africa, including Nigeria's Boko Haram.
LISTEN MORE:
Al-Qaeda, founded by Osama bin Laden in 1980s, was responsible for the 9/11 attacks, which triggered the "War on Terror" by the US government. Its current leader, al-Zawahiri, an Egyptian doctor with a master's degree in surgery, took over the leadership after bin Laden was killed in a 2011 US raid in Pakistan.