Chilling footage shows Shenzhen landslide claim entire BLOCKS; 91 now missing in disaster (VIDEO)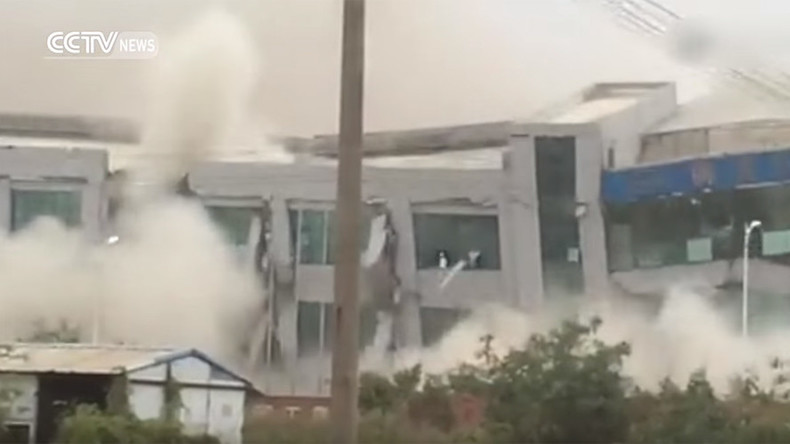 A horrifying video of a landslide swallowing up the city of Shenzhen in southern China shows entire buildings being gobbled up in seconds. Meanwhile, the number of people missing has jumped to 91, China Central Television (CCTV) reports.
The disaster occurred in the Hengtaiyu industrial park in Shenzhen, Guangdong province, on Sunday morning, destroying a total of 22 buildings and causing a gas pipeline explosion.

Shocking video footage from CCTV shows an entire multi-level building collapse in under five-seconds. At first, people are in disbelief, but are then seen running away from the landslide seeking safety.
China's Ministry of Land & Resources has blamed the disaster on a collapse of piled-up construction waste and soil residue in the area, state media said. It also cited a local emergency office giving a sharply increased estimate of the number of people missing. The figure had previously stood at 59.
An area of about 1 million square meters has been buried in soil.

In another video posted by New China TV, the ground is lifted to a 25 degree angle, while a sea of soil drowns everything in its path. People are seen scattering, as a forceful explosion behind one of the buildings blows a mass of black earth into the air.
Local authorities have evacuated over 900 residents from the disaster zone, and more than 1,500 firemen, police officers, and health workers have been dispatched to the area.
READ MORE: Landslide in southern China leaves almost 60 people missing, causes gas pipeline blast
Major landslides are not uncommon in China. Last month, 25 people were killed in a landslide in the eastern province of Zhejiang.
You can share this story on social media: