Landslide in southern China leaves almost 60 people missing, causes gas pipeline blast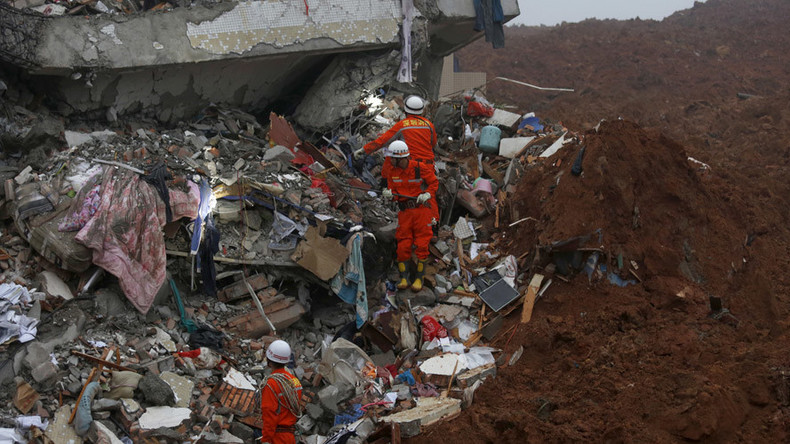 Almost 60 people are missing after a landslide hit the city of Shenzhen, southern China. The landslide also caused a gas pipeline explosion.
The landslide hit the Hengtaiyu industrial park in Shenzhen, Guangdong province, on Sunday morning, leading to the collapse of 22 buildings. An area of about 1 million square meters was covered with soil.
"I saw red earth and mud running toward the company building," an employee with the Liuxu Technology Co. told Xinhua news agency.
"Fortunately, our building was not hit, and all people in our company were safely evacuated," he added.
The witness said the landslide hit a fish pond before striking the built-up area, which perhaps made the disaster less devastating.
"Without the pond's buffer, there would be more damage," he said.
The landslide also caused an explosion at the West-East natural gas pipeline, China Central Television (CCTV) reported.
Local authorities have already evacuated more than 900 residents from the disaster zone. More than 1,500 firemen, police officers as well as health workers were deployed at the site.
Rescue services managed to pull four people out of the debris, with three of them slightly injured, while 59 more remain missing, according to Xinhua. CCTV reports seven people rescued.
China regularly suffers from landslides – last month at least 25 people were killed by a landslide in the eastern province of Zhejiang.