Syria unity government 'possible' within 6 months, political transition within 1.5yrs – Lavrov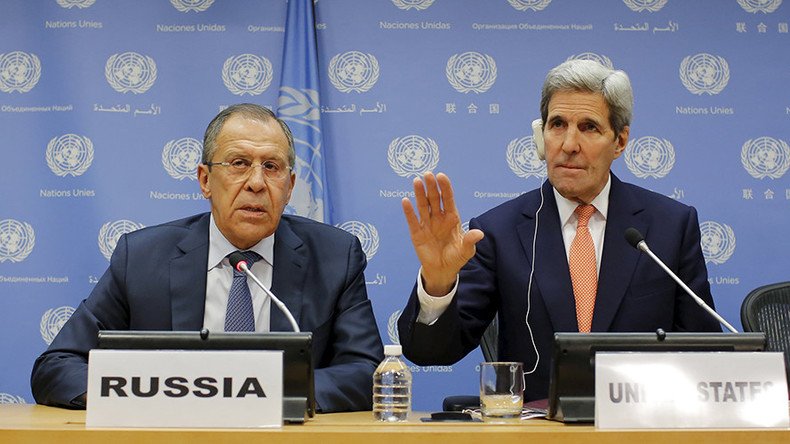 Russia's foreign minister said he believes it will be "possible" to establish a transitional unity government in Syria within six months and hold national elections within 18 months. Sergey Lavrov and his US counterpart John Kerry spoke after the UNSC voted for Syria peace plan.
READ MORE: UN Security Council unanimously adopts Syrian roadmap resolution
Following the unanimous adoption of the Syrian roadmap resolution on Friday, Lavrov told the journalists how important it is that all parties are involved in the talks.

"Only by bringing together all external players that can influence what is happening on the ground can we achieve good results," Lavrov said in New York.
Kerry told reporters that talks between the Syrian government and opposition are likely to begin in mid to late January.
He also stressed the progress of what has been accomplished by the UNSC on Friday, noting that "for the first time since this war started" the UN was able to successfully introduced a roadmap to try to bring about "a peaceful resolution through a political process."
READ MORE: Vienna talks: New elections to be held in Syria within 18 months
Lavrov reiterated that only the "Syrian people themselves can determine the future of their country."
Everyone agrees with this principle, but not all are willing to drop their preconditions or their own approach on how to proceed, Lavrov added: "Not all have given up on a military solution in Syria, which for us is absolutely unacceptable."
He explained that the resolution reaffirms all the principles that have been laid down in Vienna, describing it as "an important step."

"The most important success is that Vienna documents have been implemented into international law with this resolution," Lavrov said. "We had very frank discussions about how to move forward with a view of implementing the agreements that were reached."

In terms of Syrian President Bashar Assad's fate, Lavrov noted that Russia cannot support any approach that would allow one country to decide the future of another.
Russia regrets that the mission of uniting forces in the battle against terrorism is being held "hostage" over a decision concerning one man's fate.

"We often hear this kind of logic – that without solving the Assad question it is impossible to carry out a coordinated fight against terrorism. This is very dangerous logic, a dangerous approach."
Kerry: Countries must stop funding terrorist groups in Syria
Under the ceasefire called for by the UNSC resolution, countries are expected to stop funding terrorist groups operating in Syria, Kerry said.
The list of terrorist groups is "very contradictory" at this stage, as some countries have conflicting views on whether to define certain militants as terrorists, Lavrov stressed.
However, according to Kerry, further criteria to designate groups as "terrorist" will be determined at a later stage of the discussions on Syria.
Lavrov added that one such criterion would be checking if the group had shelled or carried out bombings in the residential areas of Damascus, or attacked the Russian embassy there.
The border between Syria and Turkey should be closed to limit support for terrorist groups inside Syria from outside of the country, the Russian foreign minister added.
"If we are talking about outside support for the groups fighting inside Syria, then it would be ideal … to close the border between Syria and Turkey," Lavrov said.
READ MORE: Erdogan calls MP 'traitor' for telling RT that ISIS got chemical weapons via Turkey
Despite the remaining differences, the UN resolution has opened the door to more coordination between US-led and Russian-led airstrikes in Syria against IS, Kerry noted, adding that this issue has been discussed with Russian President Vladimir Putin.
"Now that we have a UN resolution, now that we have a process moving, that door is much more open and much more important for us to consider ways in which there could be greater cooperation. And as we get into the negotiation itself, it would be counterproductive not to be trying to grow cooperation with respect to the fight against Daesh," Kerry said.
READ MORE: 'We see Syria fundamentally very similarly' – Kerry after talks with Putin, Lavrov
In response, Lavrov said that Russia's proposal to the United States to coordinate airstrikes against IS remains on the table. "I can confirm that regarding the coordination of strikes, our proposal to do that has remained on the table for two-and-a-half months," Lavrov said.
He added that the Russian military has been in contact with US, UK and French forces to coordinate their actions in Syria.
READ MORE: UK & Russia agree to cooperate in anti-ISIS airstrikes
You can share this story on social media: