President for life? Rwandans voting on term extension for 'Darling Dictator'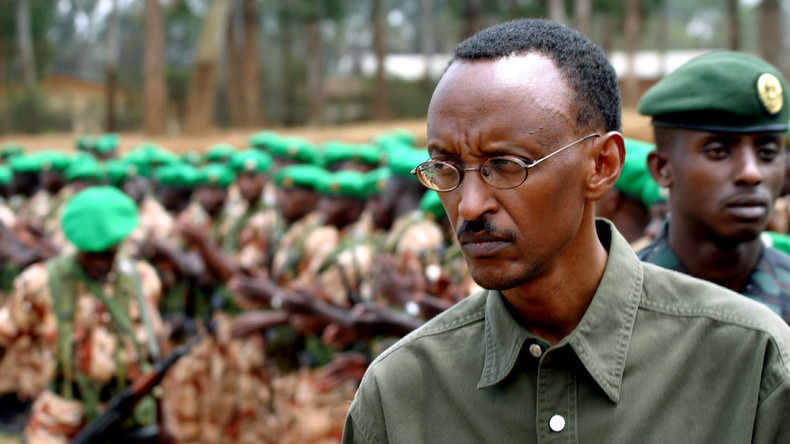 Polling stations are now open in Rwanda for a referendum that could extend the term of president Paul Kagame, who has been called a "dictator" and "tyrant", until the year 2034.
Citizens in the central African nation will decide whether to change their constitution to allow their president, once described by the New York Times as "The Darling Dictator of the Day", to run for a third term.
If approved, it could give the rebel-commander-turned-leader leeway to rule for another seven years and then two further five-year terms.
The 58-year-old was made acting president in 2000 by the Supreme Court, ten years after starting the civil war with his Rwandan Patriotic Front (RPF). He was first elected with 95% of the vote in 2003, which head EU observer Colette Flesch characterized as "not entirely" free and fair, but "an important step in the democratic process".
Rwanda's senate gave the thumbs up to the term limits referendum in November.
Human Rights Watch say Kagame's politically-dominant RPF "does not tolerate opposition, challenge, or criticism."
"In the 19 years since the RPF took power, Human Rights Watch has documented numerous cases or arbitrary arrests, detentions, prosecutions, killings, torture, enforced disappearances, threats, harassment, and intimidation against government opponents and critics," the group said in its report Rwanda: Repression Across Borders. "These abuses emerged in the immediate post-genocide period in the mid-1990s and have continued to this day."
Kagame would be blocked from an unprecedented third term if he was charged with war crimes, which the international community has been threatening to do for years.
The world reacted to the 1994 massacre of an estimated 800,000 Tutsis and moderate Hutus, when the rate of killing during the first six weeks was "five times" faster than Nazi Germany.
Lesser known is what happened after Kagame's RPF took power. Later that same year, his troops killed at least 40,000 Hutus inside Rwanda and another 200,000 died during 1996-1997 in what a UN report called "crimes against humanity" and possibly "acts of genocide."
With an annual growth rate above 7 percent, the Guardian calls the country "a puzzling tale of growth and political repression".
The World Bank ranks Rwanda as one of the easiest places to do business in Africa in its Doing Business Report.
Commentator Glen Ford from the Black Agenda Report defines their formula for success as "Murder Your Neighbors and Steal Their Wealth", referring to Kagame's role in the war in the Democratic Republic of the Congo (DRC), where the UN says he supports M23 rebels and uses Rwanda's booming mining sector as a transit point for conflict minerals.
The UN report from 2001 described Kagame and Uganda's 'President for life' Yoweri Museveni as the "godfathers of the illegal exploitation of natural resources and the continuation of the conflict in the DRC".
The same report also found that "bilateral and multilateral donors and certain neighboring and distant countries have passively facilitated the exploitation of the resources of the DRC, and thereby the continuation of the conflict" and questioned the "role of the World Bank".
But for all the support Kagame has received over the years from "distant countries", one of his biggest allies doesn't want him to serve a third term.
US ambassador to the United Nations Samantha Power said: "President Kagame has an opportunity to set an example for a region in which leaders seem too tempted to view themselves as indispensable to their countries' trajectories. We really do expect President Kagame to follow through on the commitments that he has made many times in the past to allow the next generation of leaders to come forward."
Power's boss Barack Obama reminded African leaders earlier this year that he can't run for a third term, even if he could win.
READ MORE: Third-term power grab for Barack Obama? Why not?!
The Rwandan government says the referendum is the will of the people. A report carried out by their lawmakers found that only 10 people were against the constitutional amendment.
Ahead of the 2010 elections, members of opposition FDU-Inkingi and Democratic Green Party (DGP) reported serious incidents of government intimidation to Amnesty International.
DGP leader Frank Habineza said it is time for someone else to step into the seat of power and oppose the referendum.
"We need to have a transfer of power which we have not had in the last 100 years," he said.
Habineza had to go into exile in Sweden between 2010 and 2012.
Patrick Karegeya, a former intelligence chief who later became a fierce government critic, was strangled to death in South Africa last year after he co-authored a briefing note that said: "Rwanda is essentially a hard-line, one-party, secretive police state with a facade of democracy. President Kagame and the ruling party that he leads depend on repression to stay in power."
Rwanda's foreign minister Louise Mushikiwabo and Prime Minister Pierre Damien Habumuremyi tweeted shortly after Karegeya's assassination.
The Rwandan National Congress, an opposition party Karegeya set up while exiled in South Africa, claim he was killed by "agents" of Kagame.
Polling stations are open throughout the country and the National Electoral Commission expect provisional results by Friday night, with a final announcement to be made on Monday.
Only half the population is registered to vote in Rwanda because the other half was born after the ethnic cleansing and is still too young to vote. Large queues were being observed outside polling stations early on Friday morning.