Germany to supply more heavy weapons & ammo to Kurdish militia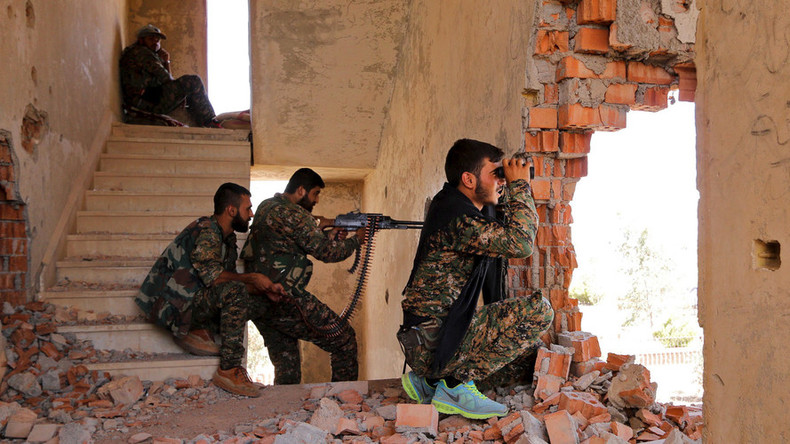 Kurdish Peshmerga fighters will get large weapons supplies, including anti-tank missiles and munitions, from Germany, Defense Minister Ursula von der Leyen said Tuesday. Meanwhile, some German small arms are surfacing on the black market.
The Peshmerga militia fighting Islamic State (IS, formerly ISIS/ISIL) are to receive 4,000 G36 assault rifles and 6 million rounds of ammunition. Several German shipments will also include 200 Milan anti-tank missiles and 6 Dingo armored personnel carriers, as well as spare parts to Kurdish-operated Dingos already in use, according to Der Spiegel.
Since autumn 2014, Germany has shipped 16,000 G3 and G36 assault rifles, 8,000 pistols, 40 heavy machine guns and 10,000 hand grenades to Peshmerga fighters, the magazine reports.
READ MORE: Kurds enter Iraqi Sinjar, raise flag, ISIS 'defeated & running' – reports
Von der Leyen told Bild newspaper on Friday that the decision to carry on supplying arms to the Kurds is justified as "the Peshmerga perfectly know how to handle weapons they get from Germany" and "the Kurds have showed themselves as successful and effective ground force against the barbaric IS [Islamic State, formerly ISIS/ISIL]."
Earlier in December, German Foreign Minister Frank-Walter Steinmeier told journalists after meeting with the leader of autonomous Iraqi Kurdistan, Masood Barzani, that the Kurdish fighters "value German weapons very much," and promised further military support. He did not go into any specifics.
Although German military aid is set to continue, still there are concerns such large supplies of up-to-date hardware might fall into the wrong hands. According to Der Spiegel, the Bundeswehr mission to train Kurdish fighters has "no real possibility on the spot" to control how the weapons supplies are handled.
A Twitter user said G36 assault rifles are available on the black market in Baghdad in "increasing numbers" at around $5,000 each.
Earlier in December, Germany's Bundestag approved the use of military resources against Islamic State in Syria. Germany has deployed six Tornado reconnaissance jets and a frigate to back up the French aircraft carrier Charles de Gaulle already present in Syrian waters, a refueling aircraft, and up to 1,200 troops to Syria, according to Reuters. Berlin said the mission will be of a "support" nature only, as the German air detachment will not take any part in the airstrikes against Islamic State targets.
You can share this story on social media: