New part of NATO air defense system goes online in Romania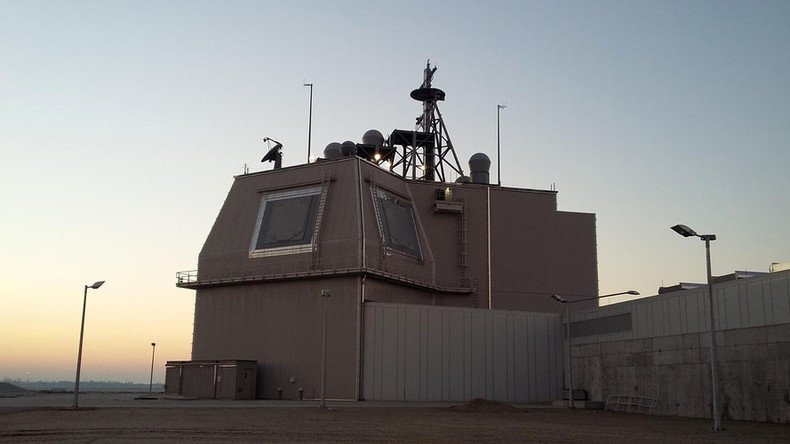 The new Aegis Ashore ballistic missile defense system at Romania's Deveselu airbase is to come online Friday, as the US Navy takes control of the site after years of construction.
Washington and Bucharest are expected to announce the pre-operational phase of the first ground-based Aegis Ashore anti-missile site at Deveselu airbase at an official ceremony Friday, according to Navy Times.
"That means all the major components of the missile defense system, including the missiles, are in place, and have been handed over to military commanders," an unnamed Pentagon official was quoted by Reuters as saying.
However, according to US Navy spokesman Lt Cmdr Timothy Hawkins, the system cannot be formally called "operational" until spring 2016 as it needs to be fully integrated into NATO's ballistic missile defense system, a move championed by Obama administration, Navy Times reports.
The US Embassy in Romania said in a statement that the launch of the land-based Aegis site in this country is "Phase two" of setting up missile defense in Europe that will "expand coverage against short- and medium-range threats" by deployment of "a more capable SM-3 interceptor (the Block IB)."
The Deveselu airbase site is located south of Romanian capital Bucharest. It is a ground component of Aegis ballistic missile defense system which includes SPY-1 radar and vertical-launch SM-3 long-range interceptor missiles.
According to Navy Times, the Aegis site will be run 24/7 by three Navy crews rotating through six months at a time. Each shift will have an 11-person watch team, including fire control technicians, operations specialists, and cryptologic technicians with one watch officer overseeing them.
Earlier in December, the US successfully conducted its first intercept flight test in Hawaii, hitting a target representing a medium-range ballistic missile that was air-launched from a US Air Force C-17 aircraft. The test came weeks before the Aegis Ashore site at Deveselu came online.
Washington insists the European missile defense shield aims at safeguarding the continent from possible missile strikes by North Korea and Iran, emphasizing both countries have nuclear and strategic arms programs.
Moscow has repeatedly denounced those claims, pointing out that neither North Korean or Iranian missiles are able to reach Europe, while the US and NATO provided no written assurances the European missile defense is not aimed at Russia.
On Wednesday, the commander of Russia's Strategic Missile Troops, Col. Gen. Sergey Karakaev told a press conference that the existing US missile shield cannot withstand a massive strike of Russian nuclear intercontinental ballistic missiles (ICBMs), saying Moscow develops "brand new and effective means and techniques to penetrate any missile defense system."
Aegis Ashore facilities in Romania form part of the NATO European anti-missile system, with another site under construction in Poland expected to become operational by 2018.
You can share this story on social media: