Putin's best Q&A quotes from 'Ankara sucking up to US' to 'Trump being absolute frontrunner'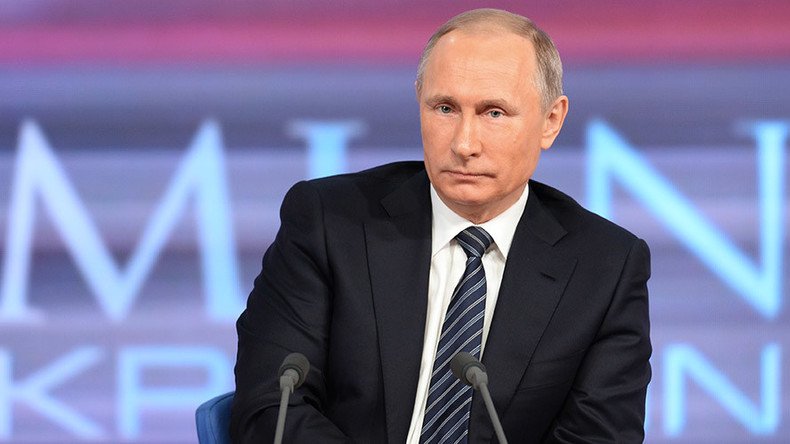 Never at loss for words, Putin was as straight-forward as ever at his annual Q&A session. Russian relations with Turkey, the Syrian and Ukrainian crises, as well as the US presidential race were the highlights of the 3-hour long marathon attended by 1,400 journalists.
READ MORE: Vladimir Putin 2015 media Q&A Live updates
When asked about third party interests contributing to the deterioration of Russia-Turkey relations, Putin wondered if Washington might have something to do with it.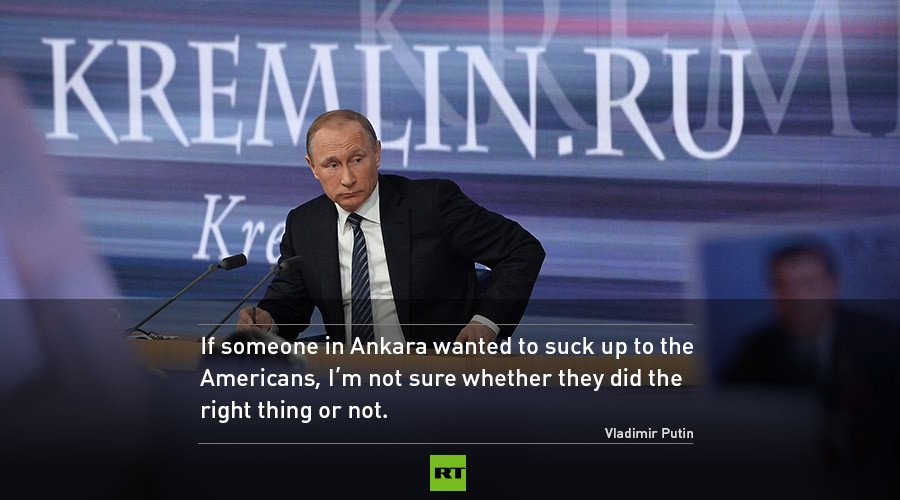 "We don't know that for sure, but if someone in the Turkish leadership wanted to suck up to the Americans, I'm not sure whether they did the right thing or not," he said.
"First of all I don't know whether the Americans need it or not, it's possible there was a certain agreement on some level: 'we down a Russian plane and you turn a blind eye,' 'we deploy our troops to Iraq and occupy a part of Iraq'."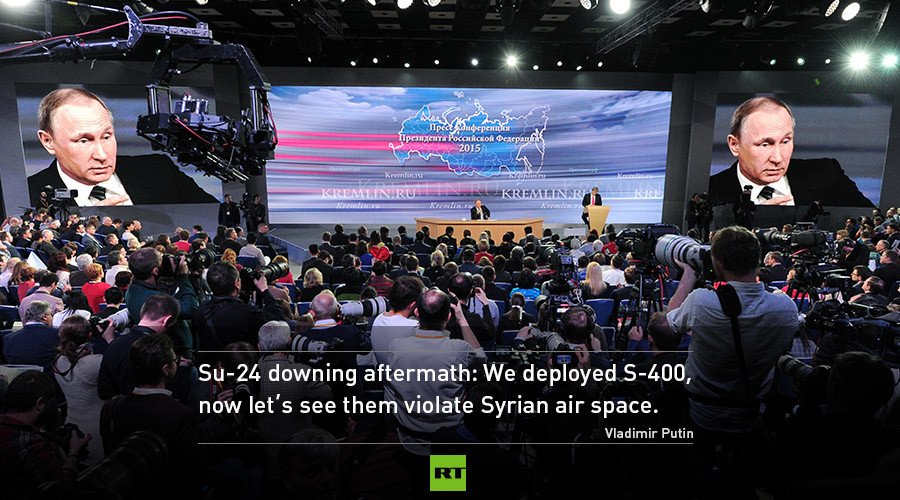 Russia won't cease its military campaign in Syria because of the Su-24 downing, even if Ankara expected that, said Putin.
"[Ankara] thought we would flee [Syria]! No, Russia is not a country to act like that. We increased our presence in Syria; we increased the strength of our air forces. There were no anti-aircraft weapon systems there before – now there is the S-400," he said.
"Turkey used to violate Syrian airspace on a regular basis, now let's see them fly there"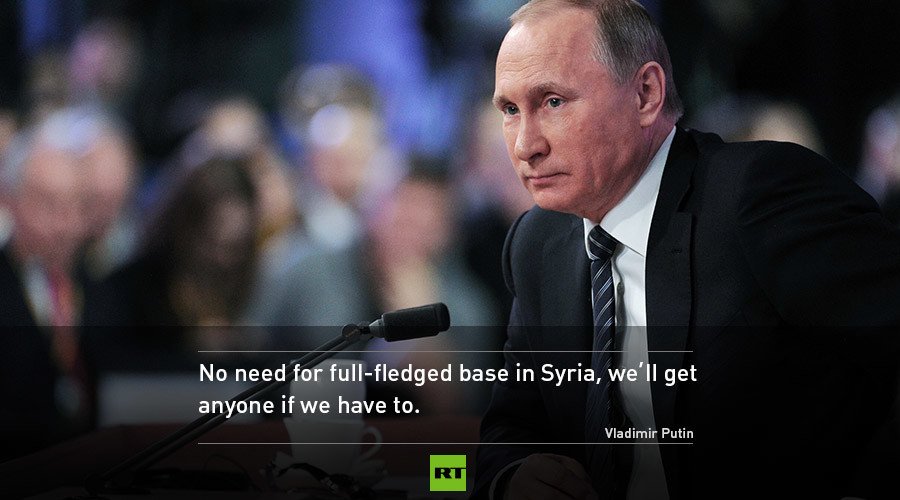 Operating a full-fledged base in Syria is not on Russia's agenda, Putin said.
"Why would we need a base over there? We can get them [if we have to]," Putin said, stressing that the temporary units of the Russian task force currently operating in Syria could be withdrawn within a couple of days.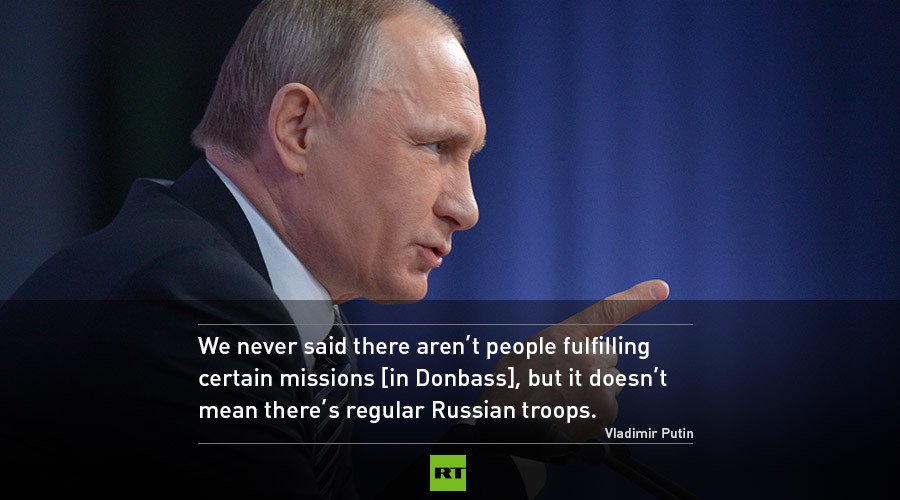 Putin reiterated that, despite constant accusations, no regular Russian troops have been stationed in Ukraine.
"We never said there were no people fulfilling certain tasks there (in Donbass region of Ukraine), including in the military sphere. But that does not mean there are regular Russian troops. Feel the difference?" Putin said.
READ MORE: Putin's comment on Ukraine 'twisted by Western media'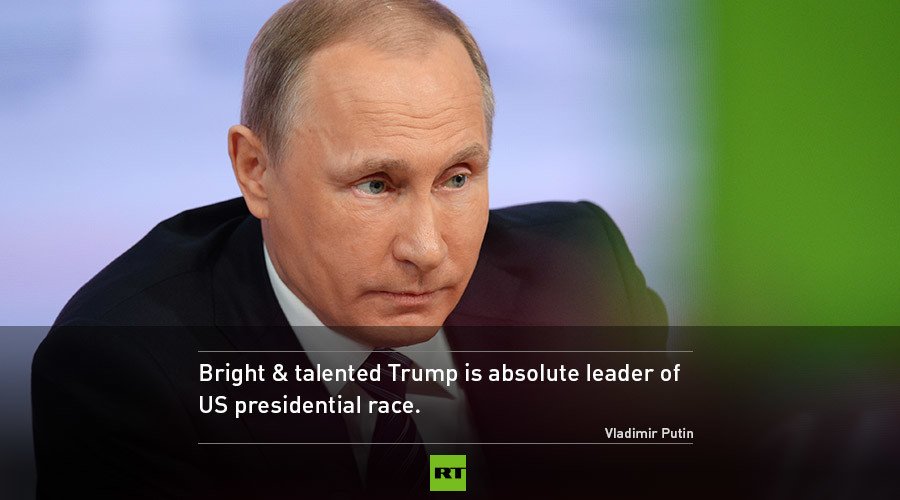 After the main part of the Q&A session was over, Putin was asked about his attitude towards Donald Trump.
"It's not our business to define his accomplishments," Putin said. "But he is the absolute leader of the presidential race [in the US]".
"He is a bright, talented person, no doubt about that," Putin added. Trump recently stated he would like to see the US strengthen ties with Russia. "We welcome that of course," said Putin.
Earlier in the same Q&A session, Putin had said he was prepared to work with whoever turns out to be victorious in the 2016 US presidential election.
You can share this story on social media: