Vladimir Putin 2015 media Q&A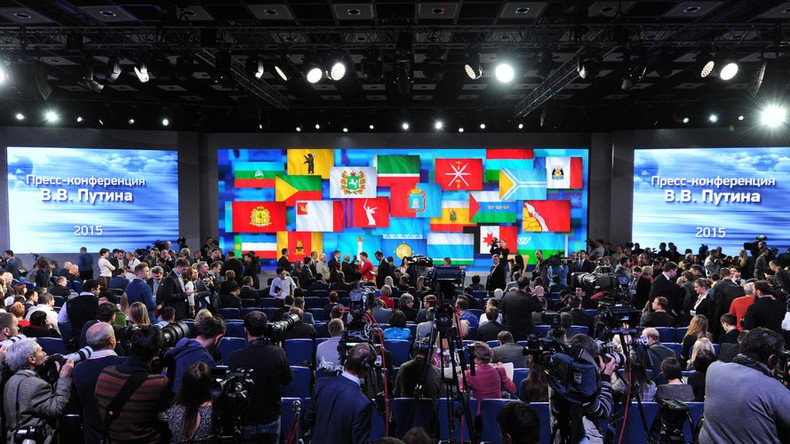 We're covering the Russian president's traditional end-of-year Q&A marathon LIVE on RT. This year's session has attracted nearly 1,400 journalists, ready to pose a wide variety of questions. It is expected that the focus will be on international issues, but domestic issues such as the economy will also be up for discussion.
17 December 2015

12:34 GMT

Vladimir Putin's 11th annual press conference lasted 3 hours, 8 minutes, much the same as the similar event a year ago. During the event, Putin answered questions from 32 Russian and foreign journalists.

12:28 GMT

Putin said American presidential candidate Donald Trump is a "talented" person and an "absolute leader" in the US presidential race. The Russian president welcomed Trump's recent statement about stronger cooperation with Russia.

#Putin calls Trump a "colorful, talented man and the frontrunner in the US presidential race"

— Alec Luhn (@ASLuhn) December 17, 2015

12:16 GMT

Putin said it was necessary to wait for the official results of the investigation into opposition figure Boris Nemtsov's murder. The president stressed that he has never discussed the matter with Ramzan Kadyrov, the leader of Chechnya, even though two Chechen nationals are suspected of committing the killing.

12:06 GMT

Russian authorities do not plan to lift the ban on adoption of Russian children by foreigners, the president said.

12:01 GMT

Fighting terrorism implies uniting efforts, not dissipating strength, Putin said.

11:59 GMT

The creation of an Islamic counterterrorist coalition headed by Saudi Arabia while there is another anti-terrorist coalition headed by the US can be explained by some kind of regional interests, Putin said. The president expressed hope that Moscow and Riyadh will be able to work out common rules of interaction.

11:57 GMT

Russia's decision to halt flights to and from Egypt is not political and is not a sign of distrust toward the Egyptian leadership; it is necessary to maintain the safety of Russian citizens, Putin said, adding that the Egyptian president is showing great personal courage in the fight against terrorism.

11:49 GMT

Moscow is ready to cooperate with Kiev authorities on gas transit if Ukraine is capable of acting as Russia's European partners in the Nord Stream project.