Blogger ordered to pay Singapore PM $106k for alleging mismanagement of funds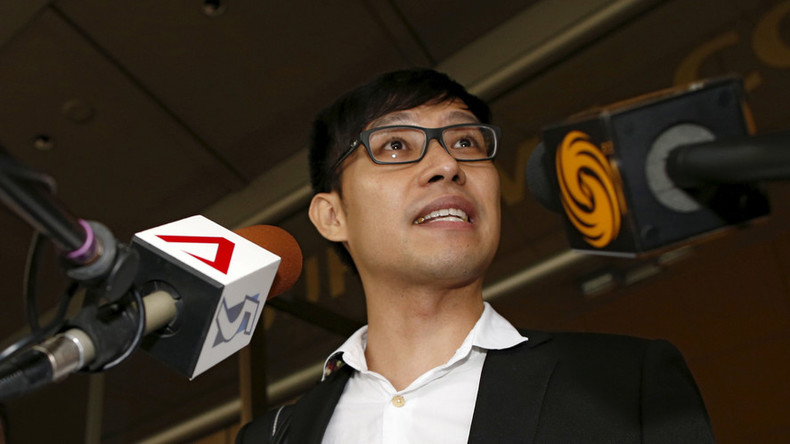 A blogger in Singapore has been ordered to pay $106,172 in damages after being sued for defamation by the prime minister. The leader took legal action after the writer implicated him as responsible for mismanagement of money from a state pension fund.
The fine was handed down by Singapore High Court Judge Lee Seiu Kin on Thursday, who said that blogger Roy Ngerng had acted out of malice when he wrote a blog post about Prime Minister Lee Hsien Loong in May 2014.
That post compared the government's usage of Central Provident Fund (CPF) monies to leaders of the City Harvest Church who had been accused of misusing church funds, Channel News Asia reported.
Ngerng, 34, charged that the government was also guilty of mismanagement, and that such misuse was made possible via the government's investment arms, Temasek Holdings and GIC.
"The allegations that the plaintiff had criminally misappropriated monies paid by citizens to a state-administered pension fund was one of the gravest that could be made against any individual, let alone a head of government," the judge said.
He went on to state that Ngerng "called the plaintiff a thief when what he had wanted to do was to criticize the CPF policy of the government headed by the plaintiff...he had no basis to call the plaintiff a thief and it was totally unnecessary for the purpose of his criticism of the CPF policy," as quoted by Reuters.
Although the S$150,000 (US$106,172) fine exceeds six figures, the justice said he had taken into consideration Ngerng's "modest standing," which warranted a "substantial reduction" from what had been awarded to leaders in similar cases in the past.
Government leaders in Singapore have previously sued or settled out of court with foreign media for alleged defamation, though this is the first time that a blogger has ever faced such action. In addition to the fine passed down on Thursday, Ngerng was previously ordered to pay the prime minister S$29,000 ($20,483) in legal fees.
Ngerng offered to settle the damages for a sum of S$10,000 ($7,063) in July, but that offer was rejected by the prime minister, who called the amount "derisory." Lee stated on Thursday that he accepts the final judgement and the award of the court.