US calls on Turkey to withdraw 'unauthorized' troops from Iraq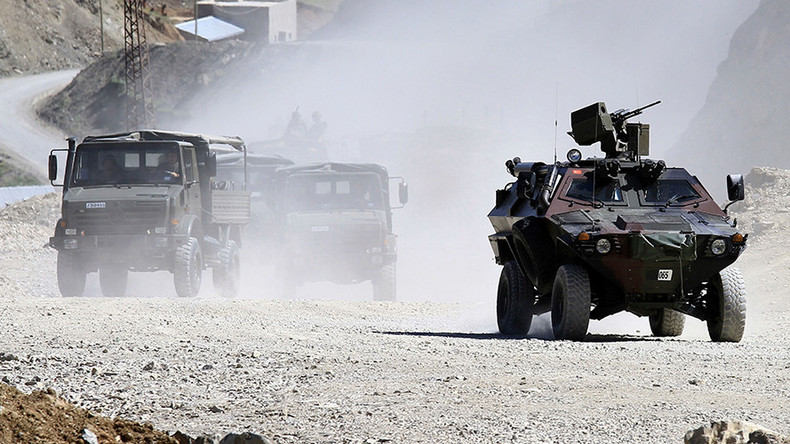 The US has urged Turkey to withdraw its "unauthorized" military forces from northern Iraq, calling on Ankara to respect the country's sovereignty and territorial integrity.
US Vice President Joe Biden has spoken to Iraqi Prime Minister Haider al-Abadi regarding Turkey's troop deployments.
"The Vice President reaffirmed the United States' commitment to Iraqi sovereignty and territorial integrity and called on Turkey to do the same by withdrawing any military forces from Iraqi territory that have not been authorized by the Iraqi government," the White House said in a statement.
The call between Biden and al-Abadi came two days after the Vice President's talk with Turkish Prime Minister Ahmet Davutoglu.
READ MORE: Turkish troops injured, 7 Kurds killed in ISIS rocket attack on base in northern Iraq
Stressing Washington's commitment to close cooperation with both Iraq and Turkey in the fight against Islamic State (IS, formerly ISIS/ISIL), Biden urged Ankara to continue its dialogue with Baghdad.
"The Vice President reiterated that any foreign military presence in Iraq must be with the full consent of the Iraq government," read a statement from the White House on December 14.
Relations between Ankara and Baghdad began to unravel following Turkey's December 4 deployment of about 150 soldiers backed by artillery and around 25 tanks to Camp Bashiqa, a base near the northern Iraqi city of Mosul that is controlled by IS. The move was protested by both the Iraqi government and thousands of its citizens across the country.
At first, Ankara claimed that it had sent its military forces to northern Iraq because of a threat presented by IS to Turkish military instructors training anti-terrorist forces in the area.
Turkey also insisted that the move had been conducted at the invitation of the Iraqi government and fully complied with previous agreements between Ankara and Baghdad.
However, the deployment was considered "an incursion" by Iraq, which accused Turkey of breaching its sovereignty.
Demanding that Ankara withdraw its troops within 48 hours, the Iraqi government urged NATO to get involved, saying that it was the alliance's responsibility to "use its authority to urge Turkey to withdraw immediately."
Despite Turkey's president saying that a withdrawal was "out of the question" on December 10, the Turkish military started pulling out some of its troops on December 14.
Washington welcomed the withdrawal as "an important step to de-escalate recent tensions."
The US State Department had said earlier that the conflict was a just a "dispute between Turkey and Iraq" over "a small number of troops."
Russia slammed Turkey's troop positioning just days into the conflict, calling such "presence unacceptable."
"An additional and extremely dangerous factor promoting international tensions is the unlawful presence of the Turkish armed forces on Iraqi territory near the city of Mosul, which arrived there without a request and approval of the legitimate government of Iraq," the Russian Foreign Ministry said in a statement.
Speaking to Italian media last week, Russian Foreign Minister Sergey Lavrov questioned Ankara's real goals.
"We need to examine how a member of the US-led coalition – the Republic of Turkey – performs goals set by the coalition," Lavrov said. "Why is it not bombing terrorists as such, but the Kurds instead?"
On Wednesday, Islamic State militants launched an attack on Camp Bashiqa, killing seven Kurds and injuring some Turkish troops. According to a report on a Kurdish news website, the Slemani Times, over 70 Turkish soldiers went missing after the attack. However, the information was not immediately confirmed.