Turkish troops injured, 7 Kurds killed in ISIS rocket attack on base in northern Iraq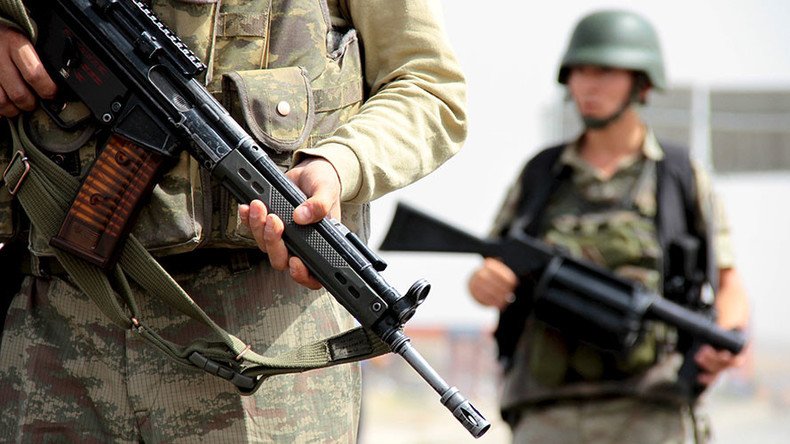 Islamic State militants launched an attack on a military camp in northern Iraq where Turkish troops are stationed on Wednesday. According to officials, seven Kurdish peshmega fighters were killed and four Turkish troops were injured in the bombardment.
Islamic State (IS, formerly ISIS/ISIL) fired rockets at the Bashiqa camp, which is located in an area the terrorist group occupies 23 kilometers from the city of Mosul in Iraq's northern Mosul province.
Turkey's general staff said in a statement that Katyusha projectiles fell into the camp around 3 pm local time. Turkish troops returned fire following the attack according to Turkish officials, who provided no further details.
The head of the Kurdistan Democratic Party (KDP) Foreign Relations Office, Hemin Hawrami, said that Kurdish forces had repelled multiple IS attacks on Wednesday, adding that seven people were killed, including two commanders.
Peshmarge repelled multiple ISIS attack today.They used 9 car bombs ,8 suicide attacks. Peshmarge succeeded, killed many. We hav 7 martyrs.

— Hemin Hawrami (@heminhawrami) December 16, 2015
Four Turkish soldiers were wounded and rushed to a hospital in Sirnak, a Turkish province bordering Iraq, according to Anadolu Agency.
The deployment of the Turkish military in northern Iraq has become a major stumbling block in relations between Ankara and Baghdad. While Turkey claims the troops had been deployed at the invitation of the Iraqi government, Baghdad denies this, describing Ankara's actions as an "incursion."
Thousands of Iraqis throughout the country took to the streets to protest the unwelcome intrusion on Saturday. Protesters chanted anti-Turkish slogans and burned and trampled Turkish flags.
READ MORE: Thousands of Iraqis protest against Turkey's troop deployment in north
Some troops and vehicles were withdrawn from the Turkish military camp, which hosts some 100 troops, in northern Iraq on Monday following the protests.
Commenting on the partial withdrawal, Turkish Prime Minister Ahmet Davutoglu said, "there has been a shifting of the (military) forces," during a live interview with A Haber TV on Monday
"We did what was necessary to do from a military point of view," he added, without elaborating on the details.
You can share this story on social media: