'Brave enough to say no to their barbarity': Jailed Saudi blogger awarded Sakharov Prize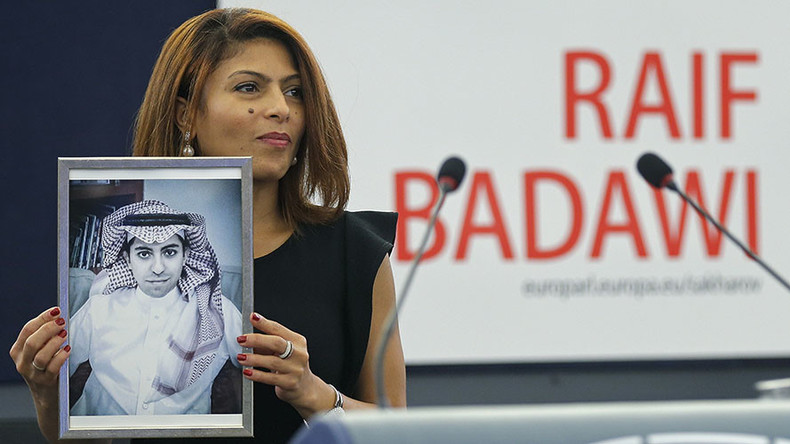 Jailed Saudi Arabian human rights activist Raif Badawi was formally awarded the 2015 Sakharov Prize for Freedom of Thought. His wife Ensaf Haidar was in Strasbourg to pick up the honor on behalf of her husband, who is serving a 10-year prison sentence.
Badawi was honored by the European Parliament for his fight for freedom of speech in the ultraconservative kingdom, with his wife saying: "Raif Badawi was brave enough to raise his voice and say no to their barbarity. That is why they flogged him."
"Free-thinking Arabs are used to concealing their ideas to get them through," Haidar said, who quoted statements made by her husband during the Strasbourg ceremony on Wednesday.
"Free and enlightened ideas are considered blasphemous in the ideology adopted by Arab societies, in which every free thought is decadence and a diversion from the true path," she added.
She praised Raif for having the courage to speak out against the clerics who are "living outside of time and governing by unjust and tyrannical laws." Haider also mentioned that if given the chance to go back in time, she would tell Badawi to say exactly the same things that landed him in trouble.
She also hoped the award would start a process, which would eventually lead to Raif's freedom.
The human rights activist is already serving a 10-year prison sentence for online posts he made, which were deemed blasphemous by the Saudi authorities. He was also given 1,000 lashes and a sizeable fine.
However, it would appear things are going from bad to worse for the blogger. Last week his wife revealed Raif had been transferred to a new isolated prison, while he had also undertaken a hunger strike.
Haider is currently living in Canada, with their three children having been granted political asylum.
The President of the European Parliament, Martin Schulz, who was present with Haider when she gave an acceptance speech on behalf of Badawi, urged Saudi Arabia to put an end to the "systematic crackdown on peaceful expression."
"We are prepared for dialogue on human rights" but "no terror, no inhumane penal system will prevent us from fighting for human rights," Schulz told Haidar. "No security argument, no weapons deal or oil money may deter us."
However, Schulz stopped short of calling for sanctions against the oil-rich kingdom, saying that dialogue was the best solution to try and bring change in the country.
In November, a Palestinian poet, Ashraf Fayadh was sentenced to death by a Saudi court for allegedly abandoning his Muslim faith, Human Rights Watch reported. The death sentence came after an initial 2014 verdict that punished the poet to four years in prison and 800 lashes.
READ MORE: Saudi to sue Twitter users who compare its death penalty policy to ISIS
The move was met with condemnation from around the world, with one Twitter user comparing Saudi Arabia to Islamic State, a move that did not go down well with the kingdom. Riyadh responded by saying it would sue any social media user that compared the country to the terrorist organization.