Turkey abuses refugees, deports them back to warzones – Amnesty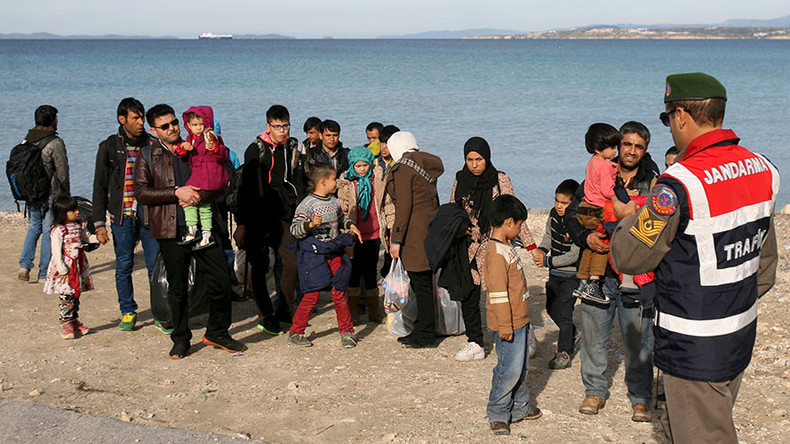 The Turkish government has been rounding up refugees and transporting them to detention centers where they are abused and mistreated, according to Amnesty International. From there, many are deported back to "warzones" in Iraq and Syria.
In a Wednesday report titled 'Europe's Gatekeeper,' Amnesty alleges that Turkey has been "herding scores – possibly hundreds – of refugees and asylum-seekers onto buses" and transporting them "more than 1,000 kilometers to isolated detention centers where they have been held incommunicado," the organization said in a press release.
It goes on to cite refugees who claim they were beaten and shackled for days before being sent back to the same countries they had fled.
"We have documented the arbitrary detention of some of the most vulnerable people on Turkish soil. Pressuring refugees and asylum-seekers to return to countries like Syria and Iraq is not only unconscionable, but it's also in direct breach of international law," said Amnesty International's director for Europe and Central Asia, John Dalhuisen.
According to Amnesty, the mistreatment occurred "in parallel" with Turkish-EU migration talks which resulted in the EU pledging to provide €3 billion (US$3.3 billion) to help improve refugees' conditions in Turkey, in exchange for Turkey strengthening measures to restrict the flow of refugees towards the EU.
However, Amnesty alleges that the EU risks being a "complicit in serious human rights violations" by "engaging Turkey as a gatekeeper for Europe."
The organization went on to confirm that EU officials in Ankara confirmed that six EU-funded open reception centers outlined in an October draft action plan would actually be detention centers.
"It is shocking that EU money is being used to fund an unlawful detention and return program. The EU must ensure that its funding and migration cooperation with Turkey promotes rather than undermines the rights of refugees and migrants," Amnesty wrote on Wednesday.
Ankara has slammed the report, saying that less than 1 percent of Syrians face any kind of heightened restrictions, and insisting that all returnees are interviewed by UN staff.
Turkey hosts the world's largest number of refugees, including 2.2 million Syrians.