Turkey to help EU stem migrant crisis for €3bn and membership talks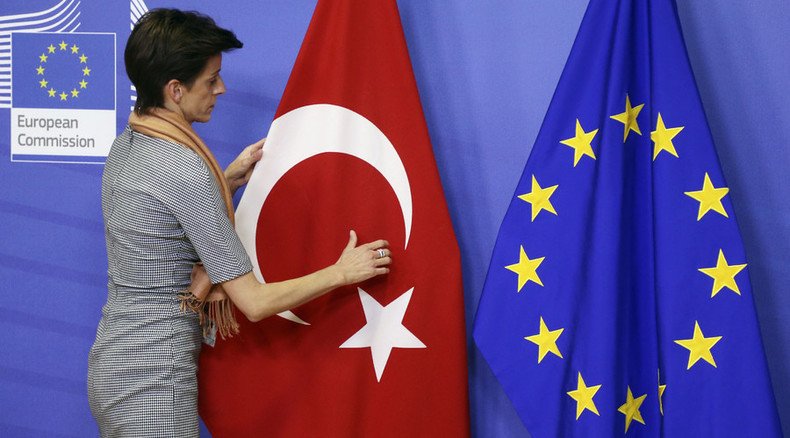 Turkey has signed an agreement with the EU at a summit in Brussels in which the country will help stem the flow of migrants to Europe in return for €3 billion ($3.18bn) of support and the reestablishing of talks on EU accession.
Key points of Turkey-EU refugee deal:

1. The EU agrees to provide "an initial" €3 billion ($3.18bn) over two years for Turkey to better cater for the needs of 2.2 million Syrian refugees in the country.
2. The EU promises to open a new chapter in negotiations regarding Turkey's EU ascension and to bring the country's standards in economic and financial policies up to scratch.
3. The EU pledges to lift visa requirements for Turkish citizens in the Schengen zone by October 2016 once all the requirements set forth in the EU roadmap are met.
The European Union, struggling with the flow of refugees coming from the war-torn Middle East and North Africa, will allocate €3 billion of initial aid to Turkey that will help with managing the crisis by taking in some 1.5 million migrants, Chancellor Merkel has confirmed, Reuters reports. The sum can be adjusted with time depending on circumstances.
Apart from that, the EU has promised to renew talks on Turkey's EU membership that haven't seen much progress since 2005. The new chapter of discussions will open in December while further chapters are expected to come in the first three months of 2016.
"We agreed that [Turkey's] accession process needs to be re-energized," European Council President Donald Tusk told a news conference after the summit, Reuters reported.
The European Commission is to present a progress report concerning potential visa liberalization for Turks traveling to the EU by early March 2016. After further discussions, the third and final report, which will most probably cancel the visa regime between the two countries if Ankara is found to be adhering to requirements, is expected to be issued in autumn 2016.
"We agreed on a plan to cooperate and stop migrant flows to Europe," Tusk added.
"We don't expect that some other country will patrol our border. This is what Europeans must do. But we do expect that steps will be taken to stop migrants coming from Turkey."
Turkey cannot guarantee that the refugee influx will abate, Turkish Prime Minister Ahmet Davutoglu said.
"We can't guarantee anything, when the there's an ongoing war in Syria with constant bombings and terror acts. But we'll do our best to guard the border and fight migrant smugglers," he added, according to Reuters.
Europe's most challenging crisis can't be fully resolved even with Turkey's help if the EU doesn't pay enough attention to its external borders, European Council President Donald Tusk said. The current situation puts the whole idea of the passport-free Schengen zone into question, Tusk added.
"Both sides will, as agreed and with immediate effect, step up their active cooperation on migrants who are not in need of international protection, preventing travel to Turkey and the EU, ensuring the application of the established bilateral readmission provisions and swiftly returning migrants who are not in need of international protection to their countries of origin," said the agreement.
The EU-Turkey agreement on migration would set the uncontrollable influx of refugees and migrants within a legal framework, German Chancellor Angela Merkel said on Sunday.
"One main part of this EU-Turkey action plan will be how we can replace illegal migration ... [with] legal migration, how we can improve the situation of refugees within Turkey," she said.
"Turkey has every right to expect support from the EU," Merkel also noted. "We are planning to hold meetings concerning the problem on regular basis," she added.
Europe is undergoing the worst refugee crisis since World War II with a number of countries failing to deal with the situation, including Slovakia, which plans to file a lawsuit against the EU's quota system, Prime Minister Robert Fico said on Sunday.
READ MORE: Slovakia to challenge refugee quotas in court, Hungary takes aim at EU budget
According to the plan, around 120,000 asylum seekers from Italy and Greece will be distributed among EU members. Slovakia, which received only 154 asylum requests this year is to take 802 migrants.
"We will take the legal action at a court in Luxembourg ... we will talk about it this week," Slovakia's Prime Minister Robert Fico said on Sunday said in a televised debate.
Slovakia, the Czech Republic, Hungary and Romania voted against the system that was approved by the majority of members at a meeting of EU interior ministers in September.
You can share this story on social media: