Freak storm rips though Sydney with tornadoes, flooding, hail, 200kph winds (PHOTO, VIDEO)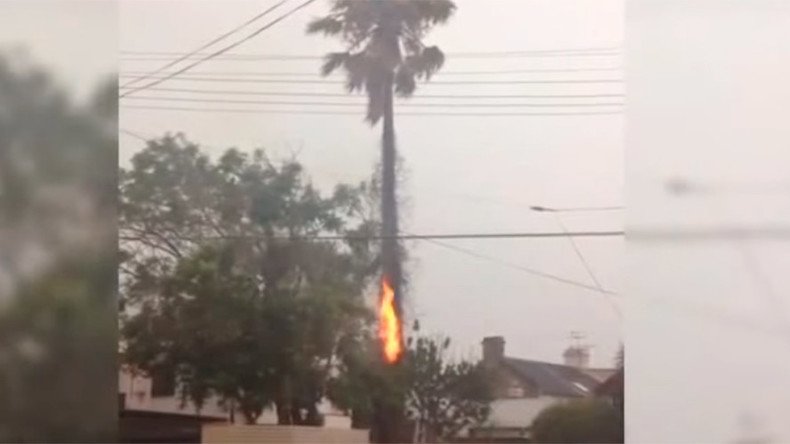 A destructive storm has hit Sydney, Australia, bringing tornadoes, flooding, golf-sized hail stones, and up to 213 kilometer per hour winds, which caused serious damage, triggered evacuations, and trapped people indoors.
A Sydney suburb was labeled a disaster zone after a tornado ripped through its southern beaches with golf-sized hail stones and rattling winds that caused tremendous damage to the neighborhood.
The disaster toll already looks steep: over 10,000 homes and around 7,000 businesses have been left without electricity. State Emergency Service (SES) has received at least 160 calls out.
Heavy winds have torn roofs from houses, triggering evacuations in Sydney.
One of the biggest evacuations took place at the desalination plant in Kurnell. Staff was told to leave the Caltex refinery immediately, after it suffered significant damage from the storm.
Part of the roof collapsed at the Shoppers at Westfield mall in Bondi Junction, causing flooding and forcing quick evacuations. The major shopping center remains closed.
"There is flooding and people are being moved out of the mall," Conor McGuinness told The Australian.
Flights are being delayed at Sydney's airport, according to an airport spokeswoman.
In another shocking moment, a palm tree caught fire when it was struck by lightning in Sydney.
Some of the photos posted online show flipped and damaged cars, as well as flooded streets with random objects blown by the winds.
Social media users had posted pictures of ominous-looking dark grey clouds, resembling movie scenes from the end of the world, prior to the storm lashing out.
The freakishly strong winds have now moved offshore from Bondi Beach, according to the Bureau of Meteorology. However, a severe thunderstorm warning is still in effect for parts of Sydney and New South Wales.
More storm outbreaks are expected throughout the day.
You can share this story on social media: