30 dead, 20 injured in cutthroat Boko Haram attack in Nigeria – reports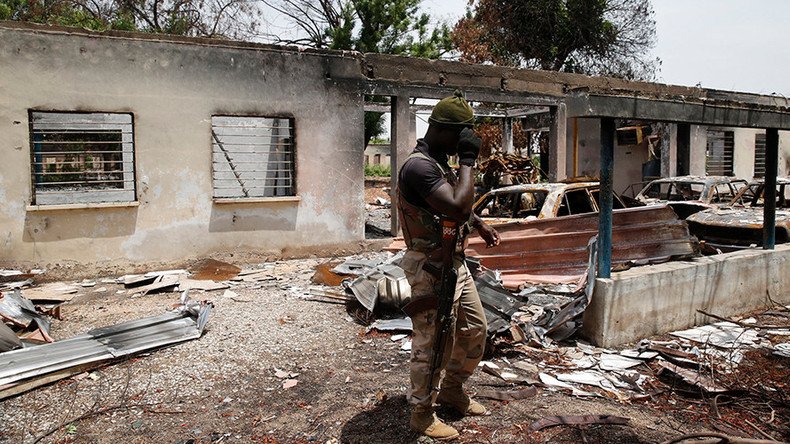 Boko Haram militants have killed 30 people and injured 20 in attacks on three villages in northeast Nigeria, AFP has reported, citing a local who is helping out the national army. The Islamists reportedly used machetes to "slaughter" their victims.
"Most of the victims were slaughtered and most of the wounded [had suffered] machete cuts," said Mustapha Karimbe, a civilian who has been helping the Nigerian military fight Boko Haram.
The attacks on the three villages – Warwara, Mangari and Bura-Shika – happened on Saturday. All of the villages are located in the state of Borno, near Buratai, which is the hometown of Nigeria's highest military chief – Tukur Yusuf Buratai.
READ MORE: Triple suicide attack leaves 15 dead, over 130 injured on Lake Chad island - state TV
Details of the attack are coming to light only now, as communication posts had been damaged in previous Boko Haram attacks.
Most of the victims, a total of 20, were killed in Warwara village, another six were murdered in Bura-Shika, and four died in Mangari, according to another witness.
The Nigeria-based Boko Haram terrorist group has killed more people than Islamic State (IS, previously ISIS/ISIL), claiming 6,644 lives compared to 6,073 killed by IS, revealed the Global Terrorism Index recently published by the Institute for Economic and Peace (IEP). The Nigerian jihadists pledged allegiance to IS in March 2015.
This latest attack comes as Boko Haram fighters have intensified their attacks on Buratai and nearby settlements. Attackers usually come into a village, raid it, and burn it down.
Locals told AFP that they see the attacks as retaliation for the army chief's ongoing fight against Boko Haram militants.
The radical terror group's six-year insurgency, which aims to create an Islamic caliphate in northeast Nigeria, has left more 17,000 people dead.
Last week Boko Haram brutally killed 14 people in the village of Kamuya, which is the hometown of the mother of Nigeria's army chief.
READ MORE: 'Deadliest terror group in the world': The West's latest gift to Africa (OP-ED)
You can share this story on social media: