Russian rescue center uses unique caring method to save abandoned bear cubs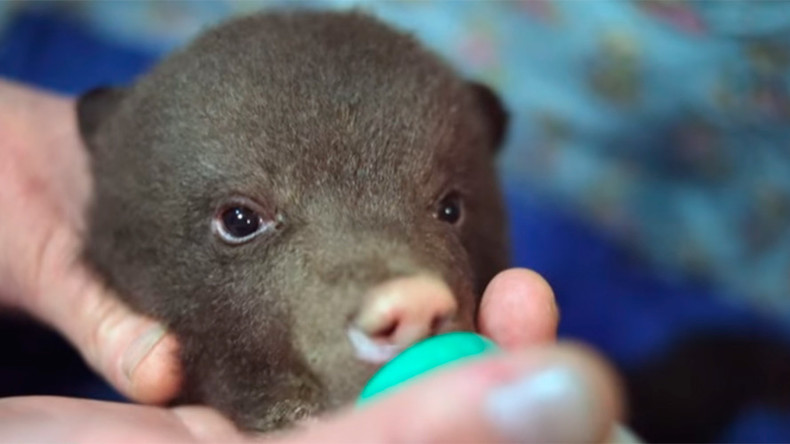 How unbearably sad it is when a bear cub loses its mother and is left all alone in the woods not capable of finding food, lacking every skill necessary for surviving and destined to certain death. Luckily, there is a Russian rescue center to handle this injustice.
The RT Documentary team travels to the Orphan Bear Rescue Centre (OBRC), located in Russia, 350 km northwest of Moscow, to see how the rehabilitation center nurses little bears, some of which are only days old, so that they could later resume their lives in the forest.
"These cubs are tiny and need help. If there's no help from mum, they need us, or they'll die," Vasily Pazhetov, grandson of Valentin Pazhetov, the founder of Bear Rescue Centre, told the RT Documentary team.
Most commonly, bears saved by people get accustomed to them and eventually when they grow older the bears fail to acquire skills used in everyday wildlife and can't interact with their congeners.The bear rescuers from Russia have worked out a unique method that allows them to look after their fluffy fosterlings without ruining their adult life – they try to take care of them without bonding.
"The main thing about our method is to preserve their fear of humans and everything to do with them," Valentin Pazhetnov told RT.
The tough part is that the newly-adopted cubs require constant care. But as soon as little bears grow stronger, they are released to a large enclosed woodland with people still monitoring them.
READ MORE: 'Pick poo to help count brown bears' is an actual campaign in Norway
The time needed to get comfortable in the new surroundings varies from bear to bear but eventually each and every one returns to the wild fully prepared to a new, unsupervised life.
"At first every time I released a cub, it felt like a real tragedy for me… But with time I began to think I am giving them chance to live real bear life!" Ekaterina Pazhetova, Valentin Pazhetov's daughter-in-law, said.
Established in the mid-nineties, the center is now an internationally recognized part of a larger organization, the International Fund for Animal Welfare, which rescues and protects animals worldwide.
The OBCR is considered a world leader in bear rehabilitation and has shared its method with other similar organizations. The center has so far rehabilitated and released over 200 bears.