Nazi gold train hopes fade as experts say 'no evidence' it exists
Experts say there is no evidence of a Nazi train in Poland, which was believed to contain treasures worth billions of dollars and be buried in a secret unground tunnel. However, one of the two people who claimed they located the train still says it is there.
The mystery has brought thousands of treasure hunters and tourists to the Polish town of Walbryzch after Piotr Koper from Poland and Andreas Richter from Germany claimed they found the treasure-laid train in August. The pair had been demanding 10 percent of the total value found in the wagons.
Read more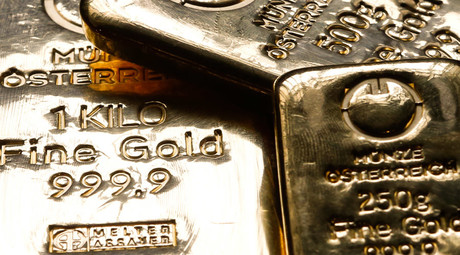 However, it seems they will be left disappointed after experts who presented their findings Tuesday said there was no evidence to show that the train they were talking about exists.
"There may be a tunnel. But there is no train," Professor Janusz Madej from Krakow's Academy of Mining said at the press conference reporting on a geological survey of the site.
A member of the Art Recovery Group told reporters: "It looks like they've found the tracks and the tunnel. They've also confirmed there's an 'anomaly' down there that is 92 meters long and the existence of a large amount of metal," according to the Telegraph.
Koper had previously stated that the train was around 90 meters in length, which would fit the description of the "anomaly."
Christopher Marinello, the CEO of the Art Recovery Group, told the Telegraph that there are countless artifacts still unaccounted for, while the treasure hunt has attracted a lot of attention to try and find the suspected Nazi loot.
"This could have been the find of the decade and hopefully will encourage even more interest in identifying and recovering the countless objects still missing at the hands of the Nazis," he said.
"We work very closely with the Polish Ministry of Culture and we trust that they will proceed with utmost diligence from here."
The search even saw the Polish army drafted in to try and locate the train in October, as troops used mine detectors and ground-penetrating radar to study the location.
Mining specialists from the University of Science and Technology in Krakow have also been conducting their own inspections in the area, Radio Poland said. The team was due to start excavations in the early spring, if any convincing results were produced.
READ MORE: Gold rush: Polish military starts 'reconnaissance' to find Nazi treasure train